Election 2015: Ed Balls and Nick Clegg campaign in Scotland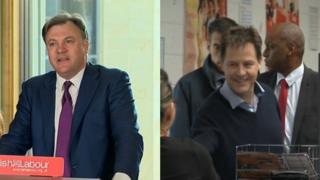 Westminster figures have travelled to Scotland on the third day of campaigning in the general election.
During a visit to Glasgow, Labour's Treasury spokesman Ed Balls said his party's first budget would end "Tory austerity".
Liberal Democrat leader Nick Clegg was also in Scotland to outline his plans to triple paternity leave.
The SNP have vowed to cut VAT for emergency services and the Scottish Conservatives focused on justice.
Elsewhere, the Scottish Greens have renewed their election pledge to bring the railways back in to public ownership.
Voters across the UK go to the polls on 7 May.
Appearing with Scottish Labour leader Jim Murphy at Glasgow's Royal Concert Hall, Mr Balls said his party would spend an extra £800m in Scotland on the NHS, education and job creation.
He said the approach of both the Tories and the SNP to fiscal policy and austerity would be "bad for Scotland and bad for the UK".
He said: "The only consensus now on offer to voters in Scotland is a consensus between the SNP and the Conservatives that no new investment is required in Scotland to end austerity in the coming year.
"The fact is only Labour has a radical and credible plan to end George Osborne's austerity economics and secure the stronger growth and better jobs and rising living standards and investment which we need to secure a more socially just future for Scotland and the UK.
"Labour is Scotland's party of economic growth, social justice and fairness - it always has been and it always will be."
'Use it or lose it'
Meanwhile, the Liberal Democrats have pledged to increase paternity leave from two weeks to six.
During a visit to a play centre in East Dunbartonshire, Mr Clegg played down suggestions that it would be unpopular with some businesses - saying it worked in other countries such as Sweden and Germany.
He told the BBC: "I think everybody would accept, and all business people would accept, that it is a good thing if dads take more time off to be with their newborn children - if that's what they want.
"And all we're saying is to encourage dads to take more time off, we're going to say 'Look, we're going to increase the time you can take off - up to six weeks - but if you don't use it, you lose it'."
He also accepted going into coalition government with the Conservatives may have cost his party "short-term political popularity" in Scotland, but said it was the right thing to do.
He added: "I accept stepping up to the plate, as we did in May 2010, to do the right thing for the country, of course it came at some cost to our short-term political popularity, but the question is not, you know, was it right or wrong for this politician or that party, but was it the right thing for the country? And you bet it was the right thing for the country."
Scottish Justice Secretary Michael Matheson campaigned in Edinburgh for the SNP, calling for a change to VAT rules for emergency services.
Speaking ahead of the event, he said: "At a time when public services are being hammered by unprecedented Westminster budget cuts, it beggars belief that the UK government won't grant Scotland's police and fire services this vital VAT exemption.
"Reversing these unfair rules would free up £23m for police and £10m for fire services - and this money could be invested in front-line staff."
Scottish Conservative leader Ruth Davidson gave a speech at the Scottish Police Federation Conference on law and order.
She said her party would end automatic early release, reintroduce life imprisonment for the most serious crimes, and make those who break a community payback order spend a night in jail.
At an event at Stirling railway station, the Scottish Greens vowed to bring the railways back in to public ownership once current contracts expire.
It comes as the Dutch state-owned company Abellio took over the ScotRail franchise. UK law currently prevents public sector bids for rail franchises.
Meanwhile, Scottish Greens co-convenor Patrick Harvie has told BBC Scotland that his party would, in part, pay for its spending plans by printing more money.
Mr Harvie told the Scotland 2015 programme: "It looks likely that the next UK government, whichever party is in charge, is going to consider another round of QE (quantitative easing). The EU is already embarking on a massive round of QE at the moment.
"If this is going to happen, we are making the very clear case that the money creation has to go into the real economy. Into green infrastructure, into investment in the housing stock to meet our basic economic needs - our housing needs as well as our energy-performance needs."
Mr Harvie also said there would be no tax cuts simply for the purpose of oil exploration.
He said: "We support the idea of a City deal as one of the mechanisms to ensure investment, but it has to be investment in the right things.
"If we simply impose tax cuts on future exploration, when we already have more resources than we can afford to burn, then we are simply digging ourselves deeper into a hole."