General election dominates First Minister's Questions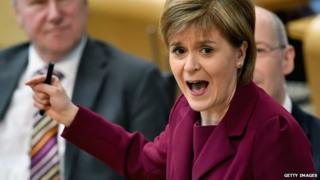 The forthcoming UK general election has dominated proceedings at First Minister's Questions.
First Minister Nicola Sturgeon was questioned by MSPs for the final time before Holyrood's Easter recess.
Labour's Kezia Dugdale and Ruth Davidson of the Scottish Conservatives both asked Ms Sturgeon about full fiscal autonomy.
Willie Rennie of the Liberal Democrats, meanwhile, asked the first minister about problems at police call centres.
Ms Dugdale queried whether the first minister would push for a full fiscal autonomy amendment to Labour's Home Rule Bill, which the party has said it would introduce within 100 days if it forms the next UK government.
Ms Sturgeon responded: "Firstly, we will be happy to support any Bill that transfers powers from Westminster to the Scottish Parliament.
"Secondly, yes, the SNP MPs will seek to strengthen any Labour bill or indeed any Tory bill to bring more powers to the Scottish Parliament."
'Public services'
She added: "The SNP stands for independence, I don't think that is any secret, and yes, we stand short of independence for maximum powers for this parliament, and that is what we will argue for."
Ms Dugdale went on to say that full fiscal autonomy would be a "disaster for Scotland", and claimed it would impose an extra £7.6bn worth of cuts in Scotland.
She called on Ms Sturgeon to have the "backbone to push for the full fiscal autonomy within the UK she says she believes in" and the "guts to admit (full fiscal autonomy) would be a disaster for Scotland's public services".
Ms Sturgeon replied: "The only cuts on the horizon for Scotland are the £30bn cuts that the Tories have proposed and Labour have signed up to. Scotland's share of that £30bn cut would be £2.4bn."
Ms Davidson, the leader of the Scottish Conservatives, highlighted business leaders who have praised the work the Conservatives had done in government, and asked how many businesses had come out in support of full fiscal autonomy.
---
Background - Full Fiscal autonomy
One of Scotland's most successful businessmen, Jim McColl, has called for Holyrood to have full control over its finances by 2020.
He said this would give Scotland "meaningful powers" to grow the economy and close the public spending gap the new system would create.
Mr McColl, who runs Clyde Blowers Capital, backed a "Yes" vote in the independence referendum.
But he says that issue has now been "settled".
He has reverted to supporting full fiscal autonomy for Scotland.
That would mean Holyrood taking charge of all Scotland's revenues and paying Westminster for shared services such as defence and foreign affairs
Critics argue that falling oil prices mean that would leave a multibillion-pound hole in Scotland's finances.
---
She said: "There is a very simple bottom line that job creators are telling the world that Conservative policies across Britain have shown that the UK is open for business.
"Those policies have delivered 174,000 extra jobs in Scotland, 54,000 fewer job seekers and created 38,000 more businesses here.
"At this election, Scotland faces a choice: back to work with the Conservatives or back to economic chaos with Labour, but this time with the SNP holding them to ransom."
The first minister responded by saying the Chancellor had missed his own financial targets in this parliament by £150bn, adding: "That's the reality of Tory stewardship of the economy."
Mr Rennie focused on problems at police call centres rather than general election issues.
The Scottish Liberal Democrat leader said he was increasingly concerned about the integrity and practices of the leadership of Police Scotland.
He also said members of the public were waiting a long time before they managed to speak to another human when they called a police call centre.
Ms Sturgeon said that she looked into the police call centre at Bilston Glen after last week's FMQs and conceded there had been one caller left waiting on the line for 58 minutes due to a technical fault. The chief constable has since apologised to the caller.
A few hours later, Mr Rennie defended the role of the Liberal Democrats in the coalition. He said the last thing the country needed five years ago was to veer to the right with the vast cuts the Conservatives were proposing.
Following First Minister's Questions, Ms Sturgeon travelled to Salford to face six other party leaders, including Prime Minister David Cameron, Labour's Ed Miliband and Lib Dem leader Nick Clegg, in a two-hour live general election debate to be screened on ITV from 20:00.
The debate, which will be given extensive live coverage by other media outlets including the BBC, will also feature Green Party leader Natalie Bennett, Nigel Farage of UKIP and Plaid Cymru's Leanne Wood.
Meanwhile, the Electoral Commission has said the number of entries on the electoral roll has fallen since the referendum.
Excluding the 110,000 16 and 17 year-olds who were registered and eligible to vote last September but who cannot vote on 7 May, the Commission found the number of register entries for those aged 18 and over had fallen by 1.8% since the referendum.