Election 2015: Lib Dems highlight Scottish NHS funds pledge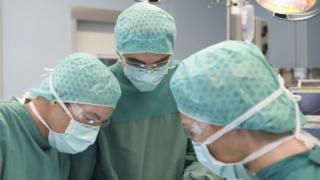 The Liberal Democrats have highlighted their commitment to boosting funding for the Scottish NHS as campaigning continues ahead of the general election.
The Scottish Conservatives also focused on health, praising the prime minister's promise of more NHS funds.
The SNP unveiled their "family manifesto", which is designed to boost household budgets.
And on Grand National day, Labour said the election was a two-horse race.
Former Scottish Secretary Michael Moore, who is standing for Berwickshire, Roxburgh and Selkirk, met voters on the streets of Galashiels in the Scottish Borders.
Mr Moore said only the Liberal Democrats had a "fully-costed" plan to increase investment in Scotland's NHS.
He added: "Liberal Democrat plans would see us spend £17bn more than the Tories and £7bn more than Labour to support doctors and nurses in our NHS. This would mean an extra £800m per year for the NHS in Scotland."
The Scottish Conservatives' health spokesman Jackson Carlow praised Prime Minister David Cameron's pledge to spend an extra £8bn on the NHS.
He said this equated to £800m for Scotland and challenged the SNP government to pass the funding in full to the Scottish NHS.
He added: "The SNP has failed to do this in the last five years. Now they need to show the same commitment to the NHS as the Conservatives are showing in England."
Family budgets
In East Kilbride, the SNP leader Nicola Sturgeon said five years of Westminster austerity had "taken their toll on already hard pressed family budgets" - with women and the poorest 10% of households consistently hit hardest.
Visiting a soft play centre in the town, she outlined the SNP's "manifesto for families", highlighting the action she says SNP MPs will take to protect and boost family budgets from further austerity.
Measures in the manifesto include increasing the minimum wage to £8.70 per hour by 2020 and expansion of the Scottish government's Living Wage, as well as strengthening the law on maternity discrimination.
Scottish Labour leader Jim Murphy addressed party activists in Bellshill before a campaigning session.
He said the general election was a two-horse race between Labour and the Tories - and that it was Scotland that could get Labour over the finishing line.
He added: "With three weeks to go Labour supporters will take to the doorsteps of Scotland with pride and passion.
"Labour are the only party offering a true alternative in austerity. Labour are the only party who will protect the UK welfare state as we know it, and Labour is the only party who can beat the Tories in this two horse race."