Election 2015: Parties campaign on jobs and local communities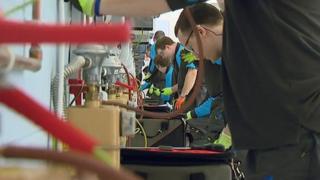 Parties in Scotland have been talking about jobs, young people and communities as they campaigned across the country.
John Swinney has set out the SNP's "fair work" plans in Leith, while Scottish Labour leader Jim Murphy met apprentices in Hamilton.
Campaigning in Inverness, the Scottish Liberal Democrats argued the SNP were "obsessed" with centralisation.
Meanwhile, the Scottish Conservatives launched their manifesto in Glasgow.
Mr Swinney was on the campaign trail to outline his party's job manifesto which includes a pledge to raise the minimum wage to £8.70 by 2020.
He said: "Hard working people have been paying the price for Westminster's failures for too long.
"A strong team of SNP MPs will ensure we take a new, fairer, more progressive direction - not just creating jobs but ensuring that the principles of fair work are firmly on the agenda at Westminster for the first time in generations."
Mr Swinney was speaking on a visit to an architectural business before heading to London to help his party leader, Nicola Sturgeon, prepare for a leaders' debate on the BBC.
'Next generation'
Scottish Labour leader Jim Murphy pledged £1bn to help young people as he met apprentices at the Scottish Gas training academy.
Mr Murphy explained Labour would fund the commitment through a tax on bankers' bonuses.
He said: "In a few weeks Scotland will either get a Tory government determined to turn the clocks back on our young people, or a Labour government that will hit fast forward on opportunities for the next generation.
"I want every young person to benefit from support from a Labour Government that will let them learn, sharpen their skills, and get on in life regardless of the postcode or background they were born into."
Meanwhile, Scottish Liberal Democrat leader Willie Rennie joined Danny Alexander in Inverness as their party published a dossier which claimed the SNP government had stripped power from local communities.
Mr Rennie said: "Our dossier shows the real impact seven years of SNP centralisation has had on local communities. Five police control rooms, 17 local courts and 21 local enterprise companies have closed in communities across Scotland.
"The SNP have double standards. They angrily demand more powers come to Scotland, but when they do, those powers mysteriously fail to make their way out the doors of St Andrews House and into local communities."
Voters throughout the UK go to the polls on 7 May to choose their next MP.
Polling suggests the contest will be tight and current voting intentions indicate no one party will win an overall majority in the House of Commons.