Election 2015: Election drive continues in Scotland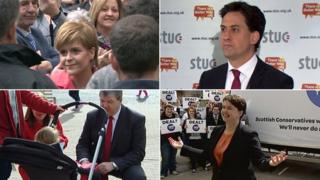 The UK election drive for votes in Scotland has continued, at the start of the fourth week of campaigning.
SNP leader Nicola Sturgeon launched her party's manifesto, with pledges to boost spending and "end austerity".
The Conservatives' Ruth Davidson hit out at the nationalists' strategy, ahead of the 7 May vote.
Labour leader Ed Miliband warned against voting Tory, and Liberal Democrat Alistair Carmichael praised his party's record in government.
Launching the SNP manifesto in Edinburgh, Ms Sturgeon said electing a strong group of SNP MPs would mean Scotland's interests being properly represented at Westminster.
She also promised to represent the interests of voters across the whole of the UK, adding: "If the SNP emerges from this election in a position of influence we will exercise that influence responsibly and constructively, and we will always seek to exercise it in the interests of people not just in Scotland but across the whole of the UK."
In Glasgow, Scottish Conservative leader Ruth Davidson pledged to stand up for the majority of people in Scotland who voted against independence in last year's referendum, and who she said did not want a re-run.
"My real concerns are for people here, in Scotland, for the quiet majority, who voted 'No' to independence last year, who just want a sensible, straightforward government delivering some much needed security, but who are looking on and wondering what on earth is happening," she said.
On the SNP's offer to help Labour into government, Ms Davidson added: "I look at the hollowed out shell of Scottish Labour and I don't even know what it stands for anymore.
"The SNP do know what they're about. They want independence. And they're prepared to use Ed Miliband to get it."
Former Secretary of State for Scotland, Lord Forsyth has, meanwhile, accused leading Conservatives of playing a "short and dangerous" game by talking up the SNP as way of damaging the Labour party in Scotland.
In an interview with the Guardian newspaper, the senior Tory peer said David Cameron had "shattered" the pro-UK alliance in Scotland.
Addressing the STUC conference in Ayr, Labour leader Mr Miliband said the "tide was turning against the Conservatives".
He added: "And we know why - another five years of Tory austerity, another five years when they plan to increase the cuts, another five years of falling living standards, another five years of insecurity at work.
"I say working families can't afford another five years, Scotland cant afford another five years - I ask for your vote as the only way to guarantee we see the back of this Tory government."
Meanwhile, Mr Carmichael said his party, as part of the coalition government, had helped more people into work and ensured they kept more of the money they earned.
"Liberal Democrats in government have delivered inflation-busting increases in the minimum wage," he said while campaigning in Milngavie, in East Dunbartonshire.
"More importantly than that, though, people are now able to keep up to £10,600 of the money they earn before they start paying income tax, and - if we have any say in the next government - that figure will be up to £12,500."