Election 2015: First Minister's Questions dominated by general election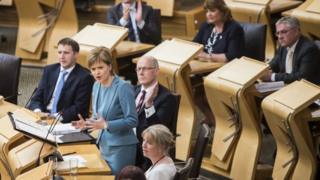 Think tank analysis of party manifestos dominated early exchanges at Holyrood's First Minister's Questions.
Ahead of the election, the Institute for Fiscal Studies looked at the financial promises of the Tories, Labour, Lib Dems and SNP.
Scottish Labour's deputy leader Kezia Dugdale and First Minister Nicola Sturgeon debated the findings at FMQs.
Outside the Holyrood chamber, the Liberal Democrats and the Tories defended their financial plans.
The electorate throughout the UK will go to the polls on 7 May to choose their next MPs.
The IFS manifesto research on spending commitments concluded that despite broad outlines, parties had left voters in the dark over future cuts.
Of Conservative plans, it said they showed "a significantly larger reduction in borrowing and debt" than Labour proposals.
On Labour, the IFS said it had been "considerably more vague" about how much it wanted to borrow.
It said the Lib Dems had been more transparent overall, with greater restraint on spending than Labour but less that the Tories.
The SNP's figures imply the same reduction in borrowing as Labour, the IFS said, although the reduction would be slower.
During FMQs, Ms Dugdale said: "I know the first minister doesn't agree with the assessment of the IFS and earlier this week described it as 'academic'.
"So, can she confirm when the SNP will publish their own costings on full fiscal autonomy for Scotland?"
Ms Sturgeon responded by saying: "I find myself wondering two weeks out from polling day if we are ever going to get to a stage in this campaign where Labour tries to give the Scottish public a single positive reason for voting Labour.
"Is it ever going to move on from SNP bad?"
She said Scotland's fiscal position at the point of full fiscal autonomy would "depend on a number of things", including the country's economic performance between now and then, and the detail of a fiscal framework that would be agreed to determine Scotland's contributions to continued reserved responsibilities.
Ms Sturgeon also added that there were "misassumptions" in the IFS report.
Conservative Chancellor George Osborne said the IFS report showed Labour would borrow £90bn more.
He added: "People know from us we have a balanced and clear plan to eliminate the deficit, to invest in our National Health Service and to make work pay for working people, which is exactly what we have done over the last five years."
Education and health
David Laws, of the Liberal Democrats, said the IFS had said "we get the tick for being more transparent clearly than the other political parties".
He told the BBC News Channel: "We've set out in more detail than any other party I think in British political history what we'd do on tax, what we'd do on welfare, what we'd do on spending, which areas would be protected.
"I think that gives us the credibility where we are saying we would invest more on things like education and the NHS for people to know we can deliver those pledges in government."
As MSPs returned to the Scottish Parliament this week following the Easter recess, campaigning continued with two weeks to go to the election.
Events took place throughout Scotland including;
The SNP's John Swinney was in Edinburgh telling voters that the election was a choice between further austerity offered by the Westminster parties and the SNP, which had pledged to end austerity and to invest in jobs and public services.
Scottish Liberal Democrat leader Willie Rennie was on the election trail Cardross, Argyll, where he was promoting his party's plan for an expansion in free childcare for Scottish families.
Former Labour Prime Minister Gordon Brown said in a speech in Kirkcaldy that within 24 hours of a Labour government being formed it would "trigger an emergency plan to tackle hunger in Scotland and immediately pay £1m to ensure food banks across Scotland are better stocked". He also said there was no chance of any deal, arrangement or pact with the SNP after the general election.
And Scottish Conservative leader Ruth Davidson was campaigning in Edinburgh where she explained her party's commitment to more powers for Holyrood.