Election 2015: Labour's Ed Balls lays out differences with SNP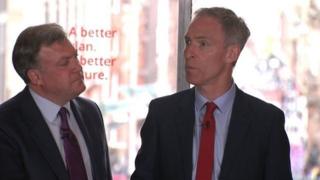 Labour's Ed Balls has claimed there is a stark choice between a road to a second referendum with the SNP or to a fairer economy with his party in power.
But SNP leader Nicola Sturgeon insisted her party could be trusted and the general election was not a mandate for another independence referendum.
Lib Dem Charles Kennedy said he did not see the necessity of a Labour-SNP deal.
And Scottish Conservative leader Ruth Davidson said voters needed to know what deals might be done.
A new TNS poll published on Monday put support for the SNP at 54%, up two percentage points from the previous TNS poll, which was published on 13 April.
The latest poll had Labour on 22%, down two percentage points. Support for the Conservatives remained unchanged at 13%, while the Liberal Democrats remained on 6%, the Scottish Greens were down one percentage point at 2%, and UKIP were up one percentage point to 2%.
The poll of 1,003 adults in Scotland was conducted between 1 and 19 April, and is the latest in a series to suggest the SNP holds a large lead over Labour in Scotland.
It was published as Mr Balls, who was the shadow chancellor in the last parliament, was in Scotland campaigning with Scottish Labour leader Jim Murphy.
In a speech in Glasgow, Mr Balls said Labour had "consistently" said there would be no coalition or any other deal with the SNP if the election resulted in a hung parliament.
He said the SNP wanted "something fundamentally different" to Labour's manifesto.
Mr Balls added: "We want to show, not by setting Scottish nationalism against English nationalism, but to show we can all work together and have a stronger and fairer future together and the SNP don't want that.
"If Scotland elects Labour MPs they will spend every day working to make things better for working class people.
"We know that SNP MPs will spend every day working for another referendum."
Mr Balls' speech came on the day the general secretary of Labour-supporting union Unite told the Guardian newspaper he believed that Labour leader Ed Miliband could work with Nicola Sturgeon after the election
Len McCluskey went on to say in the article that Ms Sturgeon had been "impressive" on the election campaign trail.
'Face reality'
Ms Sturgeon said as long as Scotland remained part of the Westminster system she would want to work "constructively and positively" to make it work for Scotland.
She told the BBC: "The polls are showing that neither Ed Miliband or David Cameron will win a majority - then they have to face up to reality.
"They will have to accept that people have chosen not to give them a majority and have chosen to give other parties a stronger voice and they will have to respect the decision of voters and work with and compromise with parties like the SNP."
The SNP leader's comments came as her party outlined its support for a target of 100,000 affordable homes across the UK.
Ms Sturgeon explained: "The extra investment that would go with that would enable the Scottish government to up our own house-building target.
"The availability of housing, both to buy and to rent, is one of the big issues of this election and we need to be ambitious about our determination to meet that challenge."
Former Liberal Democrat leader Mr Kennedy was campaigning in East Dunbartonshire.
He highlighted the Liberal Democrats "record of achievement in government" and told voters to consider the "stark choice" they faced between "hard-working local Lib Dem champions and the SNP".
Mr Kennedy said the SNP at Westminster may not be left with as much power as it thinks and that Labour might be able to run the government as minority after the election.
He added: "It might lay before the House of Commons a Queen's Speech that will contain a lot of things that progressive politicians, people like me, people in the SNP, perhaps even a few Liberal-minded Conservatives , won't take too much exception to.
"Therefore I just do not see what leverage the SNP will have in such a situation."
Scottish Conservative leader Ruth Davidson was campaigning about flexible childcare during a visit to a nursery in Crieff.
She told the BBC that Labour's Mr Miliband had been "edging down the aisle" with Ms Sturgeon for some time.
Ms Davidson added: "When siren voices like Len McCluskey - one of the biggest paymasters of the Labour Party - is demanding that he [Ed Miliband] does deals with a nationalist party that wants to break up the UK - people across Scotland need to know what sort of deals would be there and also what concessions he would ring."
On the issue of childcare, Ms Davdison said the Tories wanted to build a system that fitted family life for people across Scotland.
She explained her party's approach: "We want a voucher system that has worked in other countries.
"So you can choose the nursery of your choice and you can choose the days of the week you take that childcare on."