Election 2015: Pensions among election campaign issues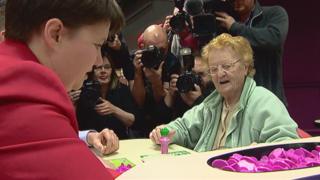 Scottish Conservative leader Ruth Davidson said her party would protect pensions with a "triple lock" to "guarantee" they rise every year.
Ms Davidson visited a bingo hall in Edinburgh as campaigning continued.
Meanwhile, Scottish Labour said it would build high-quality homes and the Lib Dems published a plan to improve prospects for women at work.
The SNP's John Swinney said his party supported small businesses and would work for an "alternative to austerity".
During a visit to Stirling, the Scottish government's finance minister said: "Scotland's small businesses are the lifeblood of our economy and their role in creating and sustaining jobs cannot be understated.
"The SNP will work with progressive voices from across the UK to pursue an alternative to austerity, that prioritises growth instead of Tory cuts.
"A strong team of SNP MPs will give Scotland's job creators a stronger voice at Westminster and support their efforts to create jobs in Scotland and across the UK."
During a photocall at a motorcycle parts maker in East Dunbartonshire, the Lib Dems announced their five-point plan to create opportunities for women.
Candidate Jo Swinson, who was accompanied by Miriam Gonzalez Durantez, the wife of Lib Dem leader Nick Clegg, said: "Liberal Democrats believe society should give equal opportunities to women from all walks of life and across all generations.
"We are ambitious about what can be achieved so that every girl and women has the chance to get on in the world."
The plan included:
challenging gender stereotypes and promoting positive body image
supporting young women to pursue science, technology, engineering, and mathematics subjects at college and on apprenticeships
creating a "dad revolution" for shared parental leave, expanding free childcare provision and flexible working
closing the gender pay gap and encouraging better representation on boards and enshrining the pensions triple lock in law
and taking action to stop female genital mutilation (FGM) and domestic violence
'State pension'
On pensions, Scottish Tory leader Ms Davidson said that people who had paid in all their lives deserved to be rewarded and protected in old age.
She told the BBC: "Let's make sure that we are looking after the people who have looked after our country, and that is our pensioners.
"People will know that if they vote for the Scottish Conservatives they get a triple lock on their pension and that means it will rise faster than prices or wages, or 2.5%, whatever is bigger.
"With voting for the SNP, full fiscal autonomy, possibly independence further down the line, you are destroying the state pension, destroying the UK pension."
Scottish Labour leader Jim Murphy was on the campaign trail in the east end of Glasgow along with fellow Labour politicians Caroline Flint and Margaret Curran.
They visited a building site in the Tollcross area where Parkhead Housing Association is building homes.
Mr Murphy said Labour would build 100,000 new high-quality family homes across Scotland if it wins the election, as well as regulating the private rented market and capping energy prices.
He said: "We can spend the next few years trying to re-run the referendum debate with the SNP or we can spend the next few years trying to rebuild Scotland's NHS and build 100,000 high-quality family homes here in Scotland.
"That's a better and a fairer way of spending the next few years rather than returning to last year's divisions."