Election 2015: Fighting talk on Scottish campaign trail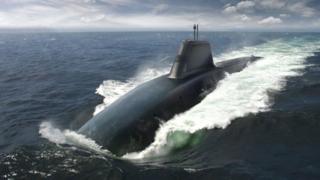 Britain should focus on building strong conventional armed forces rather than "obsessing" over nuclear weapons, SNP leader Nicola Sturgeon has said.
But Scottish Tory leader Ruth Davidson claimed an SNP-Labour deal could jeopardise the country's defence.
The Lib Dems called for a "balanced approach" to defence, while Scottish Labour was also canvassing for votes.
It comes as a new Ipsos Mori poll for STV suggested the SNP could win all 59 seats in Scotland.
The poll, which was conducted by telephone between 22 and 27 April, asked 1,071 people over the age of 18 how they would vote if there were a Westminster election tomorrow.
STV said that when its figures - SNP 54%; Labour 20%; Conservatives 17%; Liberal Democrats 5%; Scottish Greens 2%; UKIP 1% and Others 1% - were put through the Electoral Calculus website calculator it suggested the SNP could win every Scottish seat.
It is the latest in a series of polls to suggest the SNP is on course to win the vast majority of seats in Scotland.
ANALYSIS
By James Cook, Scotland Correspondent, BBC News
"There's only one poll that counts."
That's what all politicians say and of course they are right. But only the most stubborn of strategists ignores a persistent pattern.
This poll is at the upper end of the scale for the SNP but it is not far away from other recent surveys suggesting that the nationalists are on course for a stunning victory at the general election.
We should be cautious. Extrapolating from nationwide polls to predict results in individual seats is problematic.
First, it takes no account of the power of incumbency, especially relevant when so many seats are forecast to change hands.
Secondly, it does not factor in the possibility of a tactical unionist vote to stop the nationalists in individual constituencies.
Thirdly, many voters may not yet have made up their minds. A TNS poll on Monday put the undecideds at a whopping 29%.
Still, Scottish Labour had predicted that the polls would narrow as the campaign neared its end.
Instead it faces a poll predicting that by the end of next week it will simply not exist at Westminster.
Politicians focused on defence matters on the day a group of former military officials warned in a letter to the Times that not renewing the UK's nuclear deterrent would be "irresponsible folly" which could threaten "the survival of our nation".
On Tuesday, Labour's shadow defence secretary Vernon Coaker said his party was committed to renewing all four Trident submarines - which are based at the Faslane base on the Clyde - if it wins the election.
The Conservatives have also committed to renewing all four missile submarines, while the Liberal Democrats favour cutting to three.
The SNP, Plaid Cymru and the Greens want Trident to be scrapped. UKIP has said it would not scrap Trident, but would consider cutting back to three submarines.
Speaking to BBC Breakfast, Ms Sturgeon argued the £100bn which would be spent on a Trident replacement over the next 30 years could be better used on improving healthcare, childcare, education and "building a better future for our children".
She said: "What I believe we need are strong conventional forces and I believe conventional forces have been compromised because of the obsession with Trident which I think is a status symbol rather than a device to genuinely protect the country.
"There are about 200 countries in the world and 190 of them don't have nuclear weapons.
"Britain is an island nation, a maritime nation, and yet Britain doesn't have a single maritime patrol aircraft. When Russian submarines were thought to be patrolling in our territorial waters a few months ago, Britain had to call in other countries to check that out."
Ms Sturgeon was speaking ahead of an event in Glasgow, where she told businesswomen that the SNP would seek to bring progressive policies to the whole of the UK.
'Strong defences'
Elsewhere on the general election campaign trail, Scottish Conservative leader Ms Davidson drove a tank in Dundee, where she pledged to "do what it takes to ensure that our defences remain strong over the coming years and that our troops have what it takes to do their job".
Ms Davidson said: "No more sending our armed forces into conflict without the proper kit, as we saw in wars past.
"We will protect spending on aid so that we can continue to help those struck by disaster or poverty.
"And we will renew our Trident submarines so that Britain is protected in an uncertain world."
Meanwhile, former Lib Dem leader Sir Menzies Campbell said the UK needed a "responsible and balanced" approach towards its defence capabilities.
Sir Menzies pointed to instability in the Middle East and "Russian expansionism and provocation" as two of the major threats facing the country.
He added: "Limiting ourselves to three submarines when replacing the current fleet of four Trident armed submarines and moving away from continuous at sea deterrence, while always maintaining the capacity to surge to armed patrols if necessary, would help us to fulfil our commitments to the nuclear non proliferation treaty, and make a significant contribution to multilateral nuclear disarmament, all without risk to the security of our nation.
"This is the responsible and balanced approach to which the Liberal Democrats are committed."
'Fairer Scotland'
Scottish Labour leader Mr Murphy said the SNP would use any general election success to push for another independence referendum.
During a visit to meet pensioners in Yoker, he promised that Scottish Labour would focus on improving the lives of working Scots.
In his pitch to voters, Mr Murphy added: "You can protest against the Tories in all sorts of ways, you can vote SNP, you can vote Green, arguably you could even vote Lib Dem to protest against the Tories.
"But you can only replace the Tories with a vote for the Labour Party - a Labour Party that will try to build a fairer Scotland, rather than re-running the referendum."
Voters across the UK will go to the polls on 7 May.