Election 2015: The Guardian urges people to vote Labour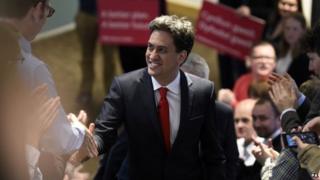 The Guardian newspaper has come out in support of the Labour Party.
The paper, which supported the Lib Dems in 2010, said it believed "Britain needs a new direction", and that Labour leader Ed Miliband has "resilience".
But it also acknowledged "misgivings" and admitted Labour had some "bad instincts".
On Thursday the Sun threw its support behind the Conservatives, while its sister paper the Scottish Sun came out in support of the SNP.
Other papers who have declared support for a specific party so far include the Mirror, which is backing Labour, and the Financial Times, which called for another Conservative-led administration.
'Inequality'
In the Guardian's editorial, the paper says Labour can "make a very big difference".
It says: "Mr Miliband has grown in this campaign. He may not have stardust or TV-ready charisma, but those are qualities that can be over-valued.
"He has resilience and, above all, a strong sense of what is just. Mr Miliband understood early one of the central questions of the age: inequality."
But the paper also said the outgoing government had "proved that coalitions can function".
It said: "...it [the Conservative/Liberal Democrat coalition] can be proud of its achievements on equal marriage and foreign aid.
"But its record... is dominated by an initial decision to pursue a needless and disastrous fiscal rigidity.
"That turned into a moral failure, by insisting on making the neediest and the least secure pay the highest price for an economic and financial crash that they did not cause.
"The evidence is there in the one million annual visits to food banks, a shocking figure in what is, still, a wealthy country."
It concluded: "This newspaper has never been a cheerleader for the Labour Party. We are not now. But our view is clear - Labour provides the best hope for starting to tackle the turbulent issues facing us."
The Spectator and Economist magazines have backed David Cameron to remain in Number 10, with the Economist calling for a continuation of a Conservative-led coalition.
This followed backing for Labour from the New Statesman, which said that the coalition had choked economic recovery in 2010 and argued neither the Conservatives nor Lib Dems deserved to be returned to power.
However, the magazine claimed that Ed Miliband's "narrow rhetorical and ideological focus on political economy has left him unable to reach the aspirational voters required to build a broad electoral coalition".
---
Who has backed a party in the election campaign?
The Sun - Conservatives
Scottish Sun - SNP
Mirror - Labour
Express - owner Richard Desmond has given £1m to UKIP
Financial Times - has called for tactical voting to produce another coalition between the Conservatives and Lib Dems
The Guardian - Labour
Papers who have not declared
Daily Mail - backed the Conservatives in 2010 - as did the Mail on Sunday
Telegraph - both daily and Sunday editions backed the Conservatives in 2010
Observer - backed the Liberal Democrats in 2010
The Times - backed the Conservatives in 2010
Independent on Sunday - said it is not advising readers how to vote in 2015
---