Election 2015: Labour leaflets dumped in Gwynedd layby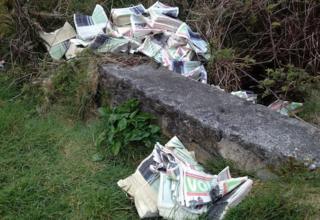 Hundreds of campaign leaflets for a Labour election candidate in Yorkshire have been found dumped in Gwynedd.
Piles of literature for Jamie Hanley, who is standing in Pudsey, were spotted in a layby near the Tre'r Ceiri hill fort, Llanaelhaearn, on Tuesday.
Mr Hanley said he uses a printing company based in north Wales and has asked them to "look into it for us".
He said it was "a great surprise" as his office received the exact number of leaflets it had requested.
Nia Roberts, who found the leaflets, said: "It's a well-known beauty spot where people park their cars to walk up to Tre'r Ceiri hill fort. I looked down and there they were - there were hundreds of them.
"It's disgusting to see so much rubbish dumped by the side of the road. Whoever put them there didn't even bother to hide them behind the wall properly so nobody would see them."
Mr Hanley said: "We're investigating the matter. The leaflets were printed in Wales. We're asking the printing company to look into it for us.
"It was a great surprise to us. I can tell you for sure they haven't come to Pudsey and then gone back to Wales."