Election 2015: No false promise on funding, says Miliband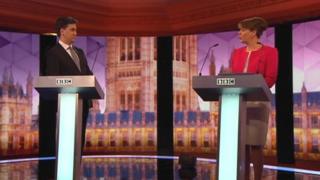 Labour leader Ed Miliband has said he will not make a "false promise" over increasing the budget for Wales.
Mr Miliband was speaking during Thursday night's BBC leaders' debate.
Plaid Cymru leader Leanne Wood challenged him to give Wales "parity with Scotland" financially - in the form of an extra £1.2bn a year.
Mr Miliband said Labour wanted "fair funding" for Wales, but it was "not responsible" to make such a pledge, in terms of the public finances.
In a debate without Conservative leader David Cameron and Liberal Democrat Nick Clegg, Labour's leader was challenged to be "bolder" on spending.
Ms Wood said: "Will you now agree that Wales deserves parity with Scotland, and if not, can you justify why not?"
He replied: "I'm not going to make a false promise to you now, Leanne, on this stage, because it's not responsible, because we have a deficit that we have to get down.
"We do want to see fair funding for Wales, and we've said that," Mr Miliband stressed.
SNP leader Nicola Sturgeon said: "If Labour won't be bold enough on its own, I think people should vote for parties who will hold Labour to account and make them bolder."
Ms Wood called on Mr Miliband to hold an "emergency budget", to reverse cuts made by Mr Cameron and Mr Clegg.
The Labour leader said there was a "huge difference" between his plans and those of the Conservatives, and he would recruit more doctors and nurses, partly financed by a "mansion tax", and scrap the so called "bedroom tax".
He said he rejected arguments from parties trying to break up the United Kingdom.
UKIP leader Nigel Farage called parties' spending plans "farcical", and accused the BBC of selecting a "left-wing" audience.
"The real audience is at home," he said.
Host David Dimbleby said an independent polling organisation chose the audience.
Green Party leader Natalie Bennett said the Greens were the "real challengers, offering a million new jobs, combating climate change, protecting vital community services".
After the debate, Conservative Leader of the Commons William Hague said it was "very clear" Nicola Sturgeon wanted to "put Ed Miliband into Downing Street and then drive him into more and more extreme positions".
Liberal Democrat Chief Secretary to the Treasury Danny Alexander said a "centre-ground voter" would have been "alarmed" by the debate.
A "responsible, strong and balanced" coalition needs the Lib Dems, he said.