Election 2015: Wales may have to follow on student finance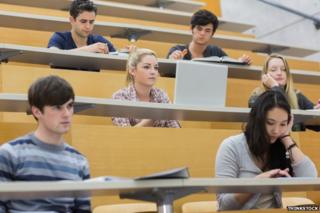 Because higher education is devolved to the Welsh government, it is easy to think that promises made on universities and tuition fees during the general election campaign won't really have much of an impact.
But just remember this; when tuition fees in England were trebled following the 2010 election, it had a direct impact in Wales too.
Universities here had to follow suit, and Welsh ministers put in place a policy of paying for the majority of Welsh students' fees.
So when Labour, for example, promise to cut tuition fees in England from £9,000 a year to £6,000; or when the Conservatives say universities should offer more two-year courses, where does that leave higher education to the west of Offa's Dyke?
Speaking to sources from several universities, the consensus is that market forces mean Wales will follow suit.
Prof Gareth Rees, from the Wales Institute of Social and Economic Research, Data and Methods at Cardiff University, said the four nations of the UK have different student finance policies.
"If you take England and Wales, they have different policies but there is so much cross-border flow that it would be extremely difficult for universities in Wales to charge fees at significantly higher levels than in England," he said.
And that cross-border flow of students between Wales and England is far larger than between England and Scotland, for example.
While 46% of students in Wales are from England, in Scotland the figure is only 12%.
There are also 20,415 students from Wales studying in England.
THE VIEW FROM STUDENTS
At Glyndwr University in Wrexham, I met third year journalism students to discuss what the parties are offering them.
The Green Party has committed to abolishing tuition fees altogether.
But mature student Richard Griffiths said that while tuition fees have taken the main headlines, they were not the be all and end all.
"I've worked for 25 years previously so there are other issues that I'm probably thinking are more pressing and I'm probably more relaxed about the issue of tuition fees, despite the fact that I've got less time to pay it back than most students," he said.
The Liberal Democrats have suffered for breaking a pledge not to increase tuition fees. In this year's manifesto, the party has said it will establish a review of higher education finance which will include living costs.
Student Abby Doddwell thinks because tuition fees have had so much attention, there has been less focus on how students manage to pay for rent, food and study materials.
"Unless you stay at home, which is what I did, then it is going to be hard. If you're away, you're paying £9,000 a year for tuition fees, then you've got to pay for your rent, pay for your food; it's not going to cover it all."
Plaid Cymru has promised students from Wales who study certain courses will not have to pay tuition fees in Wales. UKIP has a similar plan in England.
But Sam Torr is not convinced. "I don't really think that it's fair that you should have to study a certain course to get cheaper tuition fees," he said.
There is another, important aspect of university life which is not devolved; immigration and visas.
International students play an increasingly important role in the HE sector in Wales and the rest of the UK. They pay higher fees, are often among the best and brightest, and bring a cultural diversity.
Policy guide: Education
This election issue includes funding for schools, university tuition fees and early years education.
There are concerns the UK is now seen as being less welcoming.
Derfel Owen, head of academic services at University College London, said the university wanted to attract the best students to study here.
"Over the past eight years we've seen the number of students coming to the UK from India has halved," he said.
"That's at the same time that the number of students going out from India to other countries has doubled. And we have to beg the question; why aren't they coming to the UK?"
There could be big changes on the way for universities in England after the general election. But their counterparts in Wales will, no doubt, be looking very closely at what happens.