Election 2015: Plan meant £1bn Welsh wage cut, says Clegg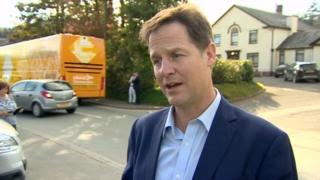 A Conservative plan for regional public sector pay would have removed more than £1bn from the Welsh economy, Liberal Democrat leader Nick Clegg has claimed.
Mr Clegg, election campaigning in Llanidloes, Powys, said Lib Dem UK ministers blocked proposals that would have "slashed" Welsh workers' salaries.
In 2012, the Conservative chancellor decided not to pursue regional pay.
On Wednesday, the Tories said a senior Lib Dem minister had been the "foremost champion" of regional pay.
Accusing the Liberal Democrats of hypocrisy, the Conservatives highlighted a letter which emerged three years ago, in which Chief Secretary to the Treasury Danny Alexander told Wales' first minister he was "keen to see local, market-facing pay introduced across the UK".
In 2011, Mr Osborne asked pay review bodies to consider the case for ending national pay deals in the public sector, after it was suggested private employers in some areas could not compete with wages in the public sector.
He revealed the plans were being dropped in his 2012 Autumn Statement and the Conservative general election manifesto now states: 'We have ruled out the introduction of regional pay in the public sector, which we do not support and will not introduce".
But Mr Clegg said it was "slightly desperate" of the Conservatives "to try and make mischief with this letter".
"As the letter made quite clear, this was something which the Treasury was looking at, at that time, looking at the evidence," he told BBC Wales.
"And I think, within a matter of weeks, certainly months, of that letter it was actually Danny Alexander who publicly said the Liberal Democrats would not go ahead with this idea because we didn't like it."
Mr Clegg stressed that Conservative MPs "continued to push" for regional pay.
He said: "I've been talking today about how we need to end the era of pay restraint, but also we need to block any further attempts to apply unfair regional pay settlements in Wales, where people in Wales in the public sector are paid less than other parts of the United Kingdom."
Legal action
The Lib Democrat claim that more than £1bn would have been taken from the Welsh economy is based on Office for National Statistics figures showing there are around 370,000 people working in the public sector in Wales, and a £3,750 pay differential between the public and private sectors.
Elsewhere in the election campaign, the UK government's Conservative Health Secretary Jeremy Hunt said NHS founder Aneurin Bevan would be "turning in his grave" if he saw the way Labour Welsh ministers were running the service.
Responding, Labour said the Tories had "dismantled" the NHS in England.
Labour shadow policing minister Jack Dromey was in Cardiff, warning of big cuts in police numbers if David Cameron remains prime minister, and a UKIP general election candidate told BBC Wales she was planning legal action against her own party.
Meanwhile, the first televised debate between the Welsh leaders of the main political parties will be held on Wednesday evening.
They will be asked questions from a studio audience during the two-hour live broadcast on ITV Wales at 20:00 BST.
Mr Crabb will be taking part for the Conservatives, along with Labour's Owen Smith, Kirsty Williams for the Liberal Democrats, Leanne Wood from Plaid Cymru, UKIP's Nathan Gill and Pippa Bartolotti of the Greens.
'Establishment'
Plaid said Ms Wood was looking forward to facing the "voices of Westminster" at the event.
She said: "I have been clear that Plaid Cymru will work with any progressive forces to end austerity, rebalance power and wealth throughout the UK and deliver fairer funding for Wales.
"Tonight is the establishment parties' chance to tell the people of Wales if they will join me in championing Wales."