Election 2015: Lib Dem warns against Tory-UKIP deal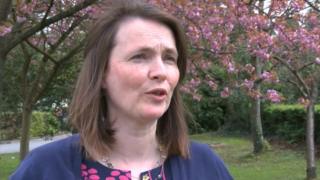 Welsh Lib Dem leader Kirsty Williams has accused Welsh Secretary Stephen Crabb of refusing to rule out a Tory deal with UKIP to stay in power.
She said there was "a danger Britain may be sleepwalking into a right-wing government".
Ms Williams claimed Mr Crabb failed to rule out a deal when asked about UKIP on the BBC's Sunday Politics Wales.
She insisted Wales needed the Lib Dems in government to keep Britain in the "centre ground".
In response to a question about the possibility and likely impact of a Tory/UKIP deal, Mr Crabb focused on the risk to the UK of a Labour government supported by the SNP.
"We don't need to get drawn into all of the permutations about different parties and coalitions," said Mr Crabb.
"But I think when it comes to the SNP you are talking about something fundamentally different, a party which has showed that it wants to break up the United Kingdom, take Scotland away from the United Kingdom, still their stated mission and objective.
"I think it would be a really serious thing for any party at Westminster to seek to do any kind of deal with them just to deliver them to Downing Street."
Ms Williams said Mr Crabb's answer showed the threat of what the Lib Dems have called a "Blu-kip" alliance between the Conservatives and UKIP.
"There will be no-overall majority in this election," she said.
"There is a danger Britain may be sleepwalking into a right-wing government.
"We have seen Stephen Crabb refuse to rule out a deal with UKIP. This 'Blu-kip' alliance would make the poorest pay to balance the books and inflict excessive cuts to our public services.
"On the other hand, Britain could end up with a Labour Government propped by the SNP that borrows too much and takes our economy backwards.
"Both these options are a clear and present danger to Wales. This is why Wales needs the Liberal Democrats in Government to keep Britain in the centre ground.
"We will add a heart to a Conservative government and we will add a brain to a Labour one."
'No alternative'
Labour candidate Mari Williams claimed both Tories and Lib Dems had "sought to hide from their records and attack others".
She said: "Labour has been clear that we are fighting to win on May 7th. The Tories' refusal to rule out a deal with UKIP and their continued refusal to rule out privatisation of the NHS being part of that deal are deeply worrying.
"The reality is that the Lib Dems are no alternative to a Tory/UKIP deal. Those Lib Dem, Green and Plaid voters that don't want a Tory government should join with Labour to kick the Tories out.
"This election is a choice between a Labour government that will stand up for Wales and deliver for our communities and a Tory government that is willing to play Russian roulette with our NHS."
A UKIP spokesman said: "Our goal still remains the same as it has always been - to give the British people a free and fair referendum on our membership of the European Union and we are clear that we will work with any party to deliver this.
"As for coalitions we are categorically not interested in ministerial cars and positions of power."
The spokesman added that "confidence and supply" arrangements to support a government would depend on on the legislative programme being proposed.