Election 2015: Plaid candidate's gay marriage remark 'misinterpreted'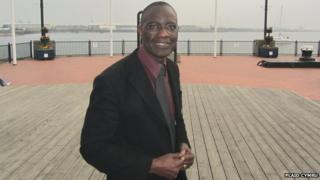 A Plaid Cymru election candidate has said he is sorry if a remark he made about gay marriage was misinterpreted.
A blog reporting on Cardiff South and Penarth hustings - a meeting where candidates address voters - quoted Ben Foday as "very against" gay marriage.
He has since told BBC Wales he was asked to comment on laws being passed without proper consultation, or without the policy being in a party manifesto.
Mr Foday said he "fully supports" gay marriage and "equal rights".
"In the hustings I was asked for my view on parliament passing legislation without proper consultation, or without the policy having been in the party's manifesto, I said that I was against that," Mr Foday said.
"I am sorry if this was interpreted to mean that I was against gay marriage.
"That is certainly not the case, I fully support gay marriage and equal rights," he added.
A full list of candidates standing in Cardiff South and Penarth can be seen here.