Students' vote key in marginal constituencies, says NUS Wales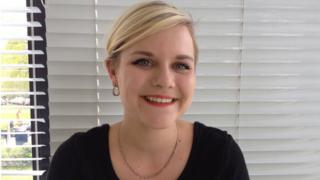 The votes of students could prove decisive in several key constituencies in Wales, the NUS has claimed.
Marginal seats such as Cardiff Central, Ceredigion and Arfon in Gwynedd are home to large student populations.
A campaign to encourage them to use their vote is being planned for 7 May on the day of the general election.
"We'll be knocking on doors to get people out to vote and there'll be a massive social media push too," said Beth Button, president of NUS Wales.
"A number of student unions will be running street parties and other activities around their local polling stations."
Cardiff University Students Union (CUSU) has been using the slogan "24,000 students, one constituency - you do the maths" as part of its campaign to encourage members to turn out to vote.
In Cardiff Central, the Liberal Democrats are defending a majority of 4,576 votes.
"The impact our students could have is huge and that's what we've been trying to get across," said Eliott Howells, CUSU president.
"Most people think students are apathetic. But we got rid of 600 tickets for an election debate we hosted... within an hour and a half. That's not apathy - that's the epitome of engagement."
In north Wales, local candidates have also been targeting students at Bangor University, according to the student union's Welsh language officer Guto Gwilym.
"We've seen a lot of them around, talking to students on campus. And it's been fantastic to see that," he said.
In Arfon, a constituency which includes Bangor and its 11,000 students, Plaid Cymru are defending a majority of 1,455.
Second year music student Rhodri Williams will be voting for the first time and said he's hopeful students will "use their voice, as that will mean better outcomes for us in future".
Third year product design student Ifan James said he was "much more engaged in the election this time around".
"A lot of us have been talking about it and making the effort to look into what the different parties are saying."
Rhodri Ab Owen, head of monitoring at political consultancy firm Positif Politics, agreed that students could have a "big impact" in certain seats in Wales.
"It's true that some of the constituencies that we could see changing hands are home to huge numbers of students.
"And we've definitely seen each of the parties targeting students with specific policies in their manifestos.
"However it's thought the number of students that have actually registered to be able to vote has fallen," he said.
The NUS claims its own polling suggests that 75% of its members are registered.