Election 2015: Long weekend of intense election campaigning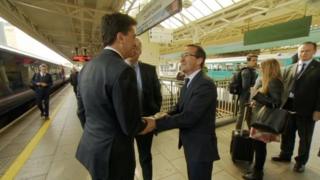 The Welsh political parties will be campaigning hard over the bank holiday weekend, before Thursday's election.
Labour is promising its "biggest organisational push" in the "most important election in a generation".
On Saturday, Plaid Cymru leader Leanne Wood will be touring Arfon and Ynys Mon in the party's campaign bus.
Welsh Conservative leader Andrew RT Davies is highlighting the fuel duty freeze, saying Welsh drivers will have saved a total of £675 by next April.
"That's Conservatives delivering for Wales and keeping the cost of living down," he said.
"We got rid of Labour's unfair and unnecessary fuel pump rises."
"Under a Conservative government, those savings would continue," Mr Davies added.
Labour announced it would be speaking to tens of thousands of Welsh voters in key marginal seats.
Shadow Welsh Secretary Owen Smith said a "last push could make all the difference".
"It's only by talking to our neighbours and friends that we can secure a Labour victory that will ensure we increase the minimum wage to £8 per hour, ban exploitative zero-hours contracts, invest in our NHS and scrap the bedroom tax," he said.
"The alternative doesn't bear thinking about, waking up on May 8 to a Tory government will mean even more misery for Wales."