Election 2015: UKIP criticised in immigration clash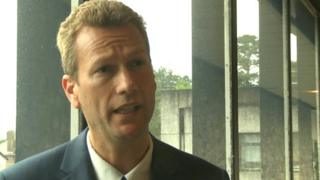 UKIP has been accused of scaremongering as politicians from Wales' biggest parties clashed over immigration.
Its Wales leader Nathan Gill said immigration should not be brushed aside and accused rivals of "belittling" voters' concerns.
But Plaid Cymru's Simon Thomas said UKIP was "whipping up hatred".
Labour's Shadow Welsh secretary Owen Smith admitted his party "got it wrong" while in office when new Eastern European countries joined the EU.
However he said UKIP was "classically engaged in what far-right parties do".
During the hustings debate on BBC Radio Wales on Monday, Conservative Wales Office minister Alun Cairns said he was "confident and optimistic" that Prime Minister David Cameron could get the EU to tighten up its rules on the free movement of people.
The Tories have pledged to re-negotiate the terms of the UK's membership with the EU, before calling an in-out referendum.
Party representatives also locked horns on the economy and public spending.
Liberal Democrat AM Aled Roberts claimed his party was "anchored in the centre ground". He urged Mr Smith to "tell the truth to the Welsh people for once" about spending cuts being planned by Labour.
Mr Smith denied the claim - saying Wales would be £1bn better off over the course of the next parliament under a Labour government.
Wales Green Party leader Pippa Bartolotti attacked "consumer capitalism", adding: "You cannot have continuous growth in a finite world."