Election 2015: Fracking issue 'buried', Greens say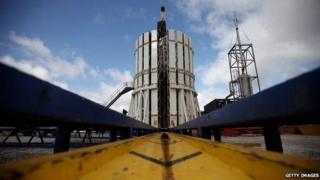 The Greens say they fear fracking has been "deliberately buried" by the major parties in Wales as an issue in the run-up to Thursday's general election.
Welsh leader Pippa Bartolotti said fracturing rocks underground to obtain gas was "ecologically disastrous".
She claimed the moratorium on fracking in Wales could be lifted "at any time", with huge damage to the countryside.
The party has called for a shift away from fossil fuels in favour of generating renewable energy.
Powers over fracking lie at Westminster, but ministers in the Welsh Labour government have called for them to be devolved.
Plaid Cymru, like the Greens have called for a total ban on fracking.
The Conservatives, Liberal Democrats and Labour in Wales support more research and restrictions.