Election 2015: Tories snatch Vale of Clwyd seat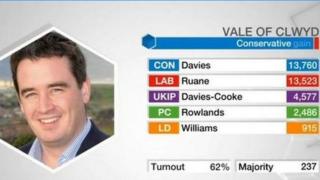 The Tories have snatched the Vale of Clwyd seat from Labour.
Dr James Davies took the constituency from Labour's Chris Ruane, who had represented it for 18 years.
It was a close-run race, with just 237 votes separating the candidates.
Former Conservative Welsh Secretary David Jones held on to his Clwyd West seat, while Labour retained its Clwyd South, Wrexham and Alyn & Deeside constituencies.
Wrexham was the first seat in Wales to be called, with Ian Lucas taking a 37% share - 12,181 votes.
Mr Lucas said it was privilege to be elected.
"I commit will myself to working for Wrexham in the next parliament and doing my best for every individual who comes to me for help," he said.