Owen Smith blames defeat on failure to win economy trust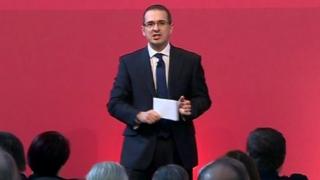 Labour failed to convince people they "can be trusted with the economy", according to senior Welsh MP Owen Smith.
The shadow Welsh Secretary also blamed the party's election failure on "the SNP threat".
He said the prospect of Scottish nationalists forming a coalition government turned voters to the Tories.
Mr Smith said "searching questions" must be asked under a "transparent and honest" examination of what went wrong.
"We lost seats in Wales and we didn't make gains we were hoping and anticipating making," he accepted, speaking to BBC Radio Wales' Good Morning Wales programme on Monday.
He said the party will now take a "hard look at ourselves".
He denied the party had failed to offer little to middle ground voters, using examples of pledges over child benefit and tuition fees.