Election 2015: Wood has 'huge' election potential, AM claims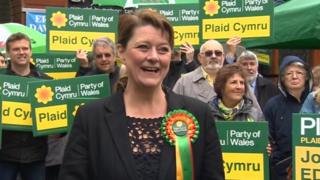 Plaid Cymru can build on Leanne Wood's general election campaign performance and present her as an alternative Welsh first minister, an AM who challenged her for the leadership has said.
Simon Thomas told a news conference: "People know Leanne. They like her".
He said there was there was "huge potential" to present her as an alternative to Labour's Carwyn Jones.
Plaid held three seats in the election, but failed to gain target seats such as Ynys Mon and Ceredigion.
Mr Thomas, Plaid's education spokesman, praised her performance in the TV leaders' debates, saying: "Her strengths are her warmth, her personality, the fact that she can make that emotional connection with people.
"And there are other people in the party that can do the intellectual stuff or do the thinking.
"We've got Adam Price as well contributing his ideas and I think that is the balance that any party needs.
"Compared to somebody like Miliband who never made that connection, Leanne has made that connection. I think she's the right person to be leading us into the assembly elections."
Mr Thomas ran against Ms Wood for the party leadership in 2012, before pulling out of the race and backing rival candidate Elin Jones.