Mark Burns-Williamson re-elected as West Yorkshire PCC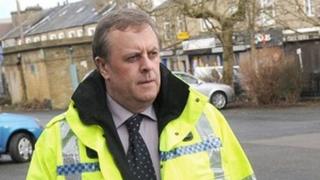 Labour's Mark Burns-Williamson has been re-elected as West Yorkshire's Police and Crime Commissioner.
He polled 295,814 of the votes, ahead of Conservative Allan Doherty who received 150,126 votes.
Mr Burns-Williamson got 49.67% of first-stage votes and Allan Doherty received 22.78%.
A count of second preference votes was needed as no candidate received more than 50% of the vote in the first round.
Turnout was 33.16%.
Candidates are listed alphabetically by surname. BBC News App users: tap here to see the results.
Results after the second round of votes
West Yorkshire
Candidate
Mark Burns-Williamson
Labour
295,814
Allan Doherty
Conservative
150,126
Results after the first round of votes
West Yorkshire
Candidate
Party
Mark Burns-Williamson
Labour
260,271
Peter Corkindale
UKIP
74,748
Allan Doherty
Conservative
119,336
Barry Golton
Liberal Democrat
48,963
Therese Hirst
English Democrats
20,656
More information is available on the Choose my PCC website.