Dorset PCC election: Martyn Underhill secures second term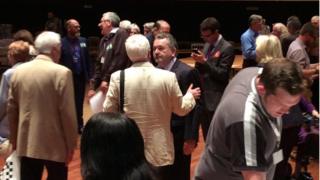 Martyn Underhill has been re-elected as Police and Crime Commissioner for Dorset.
The Independent received 38% of the first preference votes.
He was elected after the second preference votes were counted, when no candidates received more than 50% of first preference votes.
Mr Underhill received a total of 66,660 first and second preferences compared with his nearest challenger, Conservative Andrew Graham.
Mr Graham received 44,548 of the first and second preference votes.
Turnout was nearly 23%, up from 17% in 2012.
Candidates are listed alphabetically by surname. BBC News App users: tap here to see the results.
Dorset Police
Candidate
First round vote
Second preference total
Party
Patrick Canavan
20,169
Labour
Andrew Graham
37,089
44,548
Conservative
Lester Taylor
21,086
UKIP
Martyn Underhill
47,738
66,660
Independent