Jason Ablewhite: New Cambridgeshire Police and Crime Commissioner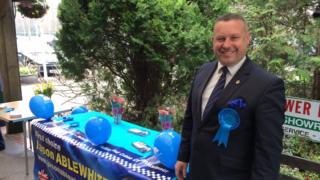 Conservative Jason Ablewhite is the new Police and Crime Commissioner for Cambridgeshire.
Mr Ablewhite received 81,581 votes. His nearest challenger was Labour's Dave Baigent, who polled 72,480.
Nick Clarke from UKIP came third with 29,698 votes.
Mr Ablewhite, a former food industry senior manager, retired in 2015 to concentrate on politics. He has been a councillor in St Ives, where he lives, since 2005.
Candidates are listed alphabetically by surname. BBC News App users: tap here to see the results.
Results after the second round of votes:
Cambridgeshire Police
Candidate
Party
Jason Ablewhite 17,967
Conservative
Dave Baigent 18,054
Labour
Nick Clarke
UKIP
Rupert Moss-Eccardt
Liberal Democrat
More information is available on the Choose my PCC website.
Results after the first round of votes:
Cambridgeshire Police
Candidate
Party
Jason Ablewhite 63,614
Conservative
Dave Baigent 54,426
Labour
Nick Clarke 29,698
UKIP
Rupert Moss-Eccardt 27,884
Liberal Democrat