Conservative Tim Passmore elected as Suffolk's PCC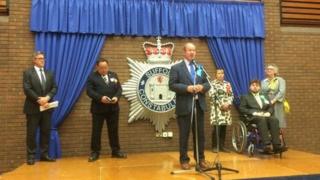 Conservative Tim Passmore has been re-elected as Suffolk's police and crime commissioner.
Mr Passmore won the role after "second choice" votes were taken into consideration.
In his acceptance speech, the former leader of Mid-Suffolk District Council said he felt "humbled" and "honoured" to be re-elected with a big majority.
The second round was between Conservative candidate Tim Passmore and Labour candidate Cath Pickles.
Read this and more Suffolk stories
Suffolk Police: Second round votes
Candidate
Party
Number of votes
Tim Passmore
Conservative
68,093
Cath Pickles
Labour
41,631
Turnout in the election was higher than expected, with the figure at 24.47% over all, up from 16% in 2012.
As Mr Passmore did not secure a clear 50% of the vote, "second choice" votes had to be taken into account.
Results after the first round of votes
Suffolk Police: First round votes
Candidate
Party
Number of votes
Terence Carter
Green
7,501
Helen Korfanty
Liberal Democrat
11,726
Tim Passmore
Conservative
57,167
Cath Pickles
Labour
32,268
Simon Tobin
UKIP
22,094
Candidates are listed alphabetically by surname. BBC News App users: tap here to see the results.
More information is available on the Choose my PCC website.