Jane Kennedy is re-elected Merseyside Police and Crime Commissioner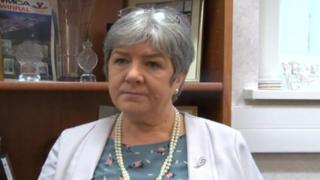 Labour's Jane Kennedy has been re-elected as Merseyside Police and Crime Commissioner.
She polled 186,661 of the votes in the first round of counting, ahead of the Conservative David Burgess- Joyce who totalled 54,000.
As she had secured more than 50% of the vote initially, there was no need for a second count.
In total, Ms Kennedy had secured 61.76% of the vote.
She said she looked forward to working "with all of the communities of Merseyside to make sure we maintain a safe and happy place to live and work."
Candidates are listed alphabetically by surname. BBC News App users: tap here to see the results.
Merseyside Constabulary
Candidate
Party
Jane Kennedy
Labour
186,661
David Burgess-Joyce
Conservative
54,000
Chris Carubia
Liberal Democrat
34,625
John Coyne
Green
26,967
More information is available on the Choose my PCC website.