Election 2016: Labour hold on West Yorkshire in the balance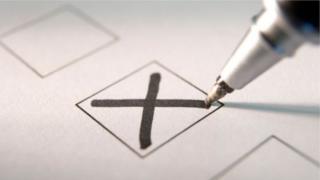 Voters are preparing to head to the polls on Thursday to decide who runs West Yorkshire's councils until 2020.
All five of the county's powerful metropolitan authorities are currently run by Labour - but some are on a political knife-edge.
The biggest, Leeds and neighbouring Wakefield, have comfortable Labour majorities and threats to the party's grasp on control are unlikely.
However, Labour's hold is much more precarious in the other three councils.
In Bradford, it has an overall majority of just one seat. In Kirklees and Calderdale the Labour groups are by far the largest but fall just short of a majority so the support of other parties is needed to push policies through.
Claw-back after 2012?
In Kirklees, Labour is just one seat short of an overall majority and the party needs another two in Calderdale to rule outright.
Statistically, Labour could be struggling to retain its position in these three closely-contested councils.
Like all the West Yorkshire authorities, they use the "thirds" voting system where one in three seats is being contested this year with the winners elected for a four-year term.
That means the seats being fought now were last decided by the electorate in 2012 which, at the height of the Coalition Government's austerity programme, proved to be a very successful election year across the country for Labour.
There's an expectation that some of the seats gained by Labour in 2012 could be clawed back.
Galloway effect
However, Labour is confident that it can keep control in all the West Yorkshire councils, pointing out that even if it does lose the odd seat or two the party will almost certainly be the largest group on all of them.
In Bradford the chances of it seeing its one seat majority wiped out are slim.
In 2012 it faced an unprecedented threat from George Galloway's Respect party which took eight seats on the council.
That pressure has evaporated along with the former Bradford West MP's short-lived popularity in the city.
He lost his parliamentary seat at the General Election last year and constant internal disputes had already seen his entire group leave the party.
Many of those seats are expected to return to Labour which should maintain the party's majority on the city council.