First Green councillor elected to Weymouth and Portland Borough Council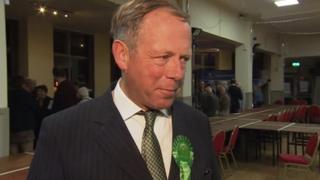 The Green Party has won its first seat on Weymouth and Portland Borough Council.
GP Jon Orrell claimed victory in the Dorset council's Weymouth East ward, with 55.3% of the vote.
No party is in overall control of the council, with the Conservatives as the largest group with 14 seats.
Labour have 12 seats, after group leader Mike Byatt lost his seat in Westham East.
Mr Orrell said it was "a big step forward" for the Green Party in Dorset and added that he hoped he could make a difference in the borough.
'A big ask'
The rest of the council is made up of six Lib Dems, two independents, and one UKIP councillor.
Labour councillor Colin Huckle said defending eight seats was always going to be "a big ask" but said the party had "a very good team of people".
But he added: "I think people very much expected we would lose more than one seat."
Turnout in the borough's local election was 34.8%, with 14,179 votes cast.