West Yorkshire council election results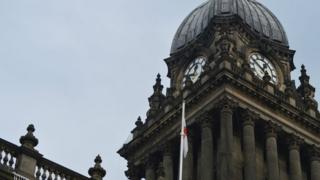 Labour has strengthened its hold on Bradford council with the party gaining three seats.
The Liberal Democrats also gained a seat whilst the Conservatives lost two and two Independents were also defeated.
Labour also held onto Leeds City Council with an unchanged majority.
Elsewhere Labour maintained control of Wakefield but failed to gain control of Kirklees and Calderdale.
Labour now has 49 seats on Bradford council with 21 Conservatives, 10 Liberal Democrat, six Independents, three Green and one UKIP councillor.
In Leeds the new council is made up of 63 Labour seats, 19 Conservatives, nine Liberal Democrats, five Independents and three Green.
Labour took 19 of the 21 contested seats in Wakefield, with the remaining two being won by the Conservatives.
Wakefield's election leaves Labour with 53 seats, Conservatives on seven, UKIP with two and one Independent.
Labour took 11 of the 23 seats being contested in Kirklees but are still one short of a majority.
Whilst the Conservatives made their first gain in Huddersfield in 24 years, increasing its presence on the council by one seat.
The election leaves Labour with 34 seats, the Conservatives on 20, Liberal Democrats on nine, Greens on three and three Independents.
In Calderdale Labour lost one seat to the Conservatives but remains the largest party.
Labour group leader Tim Swift said it had been "a good night" for the party.
The new Calderdale council make-up is: Labour 23, Conservative 22, Liberal Democrat five, and one Independent.
Results from the vote to elect a Police and Crime Commissioner for the region will be declared later.