Tory Lorne Green ousts Stephen Bett as Norfolk PCC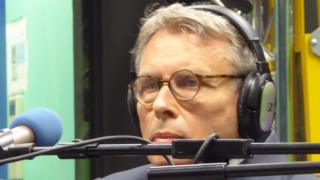 Conservative Lorne Green is the new Police and Crime Commissioner for Norfolk.
Mr Green beat Labour's Dr Chris Jones by almost 10,000 votes.
The poll went to a second round of counting after none of the six candidates secured more than 50% of first-preference votes.
Mr Green, a Canadian-born former diplomat who has lived in Snettisham for three decades, won 60,061 votes compared to Dr Jones' 50,287.
The ousted Police and Crime Commissioner for Norfolk, the independent Stephen Bett, said he was very disappointed to have lost out on the first round of the election but said competing with national party machines was always going to be a challenge.
He said: "I am sorry not to carry on but the new person taking over faces challenges in issues of mental health, rehabilitation of prisoners, internal discipline and further links with blue-light services."
Results of first round of votes
Norfolk Police
Candidate
Party
Number of votes
Stephen Bett
Independent
25,527
Lorne Green
Conservative
42,928
Jacqueline Howe
Liberal Democrat
12,838
Chris Jones
Labour
37,141
David Moreland
UKIP
27,030
Martin Schmierer
Green
9,187
Results after second round of votes
| | Party | Number of votes |
| --- | --- | --- |
| Chris Jones | Labour | 50,287 |
| Lorne Green | Conservative | 60,061 |