Sue Mountstevens re-elected as PCC for Avon and Somerset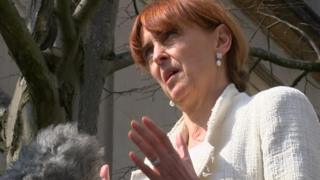 Sue Mountstevens has been re-elected to the post of Police and Crime Commissioner for Avon and Somerset.
The Independent received 26% of first preference votes and was elected after second preference votes were counted.
Ms Mountstevens received a total of 118,547 first and second preferences compared to her nearest challenger, Labour's Kerry Barker.
Mr Barker polled 100,565 of the first and second preference votes. Turnout was 26%, up from 19% in 2012.
Ms Mountstevens said she wanted to thank everyone who voted her back in, and said she looked forward to "grasping the opportunities and facing the challenges" of the job.
"We will prevent crime. We will fight crime. And we will work with all our communities," she added.
Candidates are listed alphabetically by surname. BBC News App users: tap here to see the results.
Avon and Somerset Constabulary
Candidate
First round vote
Second preference total
Party
Kerry Barker
75,538
25,027
Labour
Chris Briton
23,414
The Green Party
Paul Crossley
23,429
Liberal Democrats
Aaron Warren Foot
28,038
UK Independence Party (UKIP)
Sue Mountstevens
82,708
35,839
Independent
Kevin Stewart Phillips
22,667
Independent
Mark Weston
61,335
Conservative