Amber Valley election: Conservatives retain control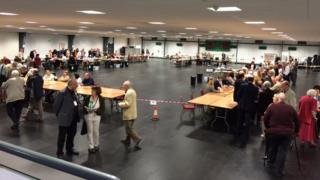 The Conservatives have retained control of Amber Valley Borough Council by just one seat.
The party clung on to power despite losing two seats, including that of council leader Alan Cox.
The council is now made up of of 23 Conservative and 22 Labour councillors after Thursday's vote.
The votes were counted on Saturday due to police and crime commissioner counts taking place on Friday.
All the latest election results are available at Election 2016