NI assembly election: Northern Ireland Conservatives 'to offer alternative'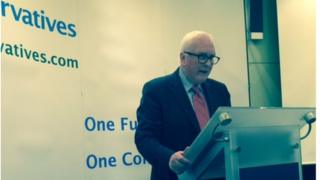 The Conservatives in Northern Ireland have launched their manifesto for next month's assembly elections.
The party said they are offering a unique alternative to the sectarian politics of Stormont.
Under the headline 'Time for a Real Fresh Start' the 16-page document looks at issues such as education, the economy and law and order.
NI Conservatives chairman Harry Cullen said the poll is a "pivotal moment for the governance of Northern Ireland".
He said the established parties have "lost control of expenditure, failed our NHS and are deadlocked over education".
He added that "Stormont must abandon theatre politics and embrace the politics of Britain".
'Reform needed'
The NI Conservatives have made a number of manifesto pledges.
They include a demand that the killing of a police or prison officer should carry an automatic life sentence.
The party supports lowering Corporation Tax to 10% and wants air passenger duty for short haul flights to be abolished.
The NI Conservatives also want the government to provide financial incentives to transform existing schools into integrated schools and aim to have full integration in place by 2025.
They would like higher education fees to rise to £6,000 per annum and want student numbers to increase.
At Stormont, the party believes reform is needed and argue that the use of the Petition of Concern should be reviewed by an independent body.