NI Assembly election: Political careers on line in South Down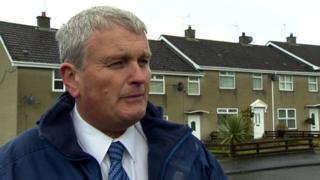 For a year he's fought to save his political career.
So a bit of dirty weather Jim Wells can live with, as he knocks doors on a filthy day in Spa near Ballynahinch.
It's not always been the case, but today he is among friends.
"Good afternoon Tommy," says the former health minister, whose world - professional and personal - unravelled during the past 12 months. "Big day coming up on May the 5th, the assembly election."
"Is it a big day?" asks Tommy.
"It's a big day for me," says Mr Wells.
It's also the day which may finally signal the end of his long political career. The DUP took so long to confirm he would even be the candidate in South Down that he - and we - wondered if he would be.
But now he says he has party leader Arlene Foster's "100% support" and denies he ever considered running as an independent.
"The message is that Jim Wells hasn't gone away you know," he says.
"Jim Wells is fighting back and Jim Wells is determined to confound those who sought to destroy me, so the fightback starts here at this election and I'm determined to go on and do the best I can for the people of South Down."
Last year at the general election - still involved in controversy over remarks made at a hustings event allegedly equating gay people and child abuse and dealing with his wife Grace's serious illness - Mr Wells got another shock.
He found himself almost 500 votes behind the much less well-known Ulster Unionist councillor Harold McKee.
And canvassing in his home town of Kilkeel, Mr McKee is well aware of what he thinks people want from their local assembly candidate, even if it means taking a different line from the majority of his party on one of the major issues of the day, membership of the EU.
"I will exercise my free vote in the EU (referendum) particularly if we look behind us we have a fishing industry here which has suffered greatly for EU issues, but I have to be seen to look after my people and I will not turn my back on them," he said.
Does that mean he will vote for a Brexit?
"I will support coming out, yes," he replied.
The Ulster Unionist Party, as usual, won a seat in South Down in 2011 and then saw it taken away when John McCallister left to form the ill-fated NI21. He's now fighting the assembly election - and perhaps the odds - as an independent unionist.
He said he offered something different from other unionists.
"Not the voting just out of fear of what might happen or who might get in where. I want a positive campaign to say 'these are the things I want to champion for the good of south Down'," he said.
Will he still be an MLA on 6 May?
"Yes, I think so," he said.
And he's not the only former Ulster Unionist in the field. Local councillor Henry Reilly is standing for the TUV via a spell in UKIP for whom he polled just over 3,000 votes in the general election.
He says he has a chance.
"In past assembly elections, if I was at doors, sometimes people would say 'we know you're a good worker Henry, but we have to vote DUP to keep Sinn Féin out'," Mr Reilly said.
"You know project fear that the DUP have excelled at in the past; well that is not as effective this time around."
The unionist field may be crowded, but south Down is a mainly nationalist constituency which for the past three assembly elections has returned two SDLP and two Sinn Féin MLAs.
Local councillor Colin McGrath believes his party, the SDLP, has benefited from having a new leader, Colum Eastwood.
"People are mentioning that they like Colum's approach," he said.
"It's not that old approach in Northern Ireland politics. It's not about orange and green; its not about nationalists and unionists - it's about delivering a service for local people in local communities.
"We're not interested in job titles and about topping polls. We want to get into the assembly to service local people and provide them on the issues that they need."
In the last assembly election the SDLP had a 2,000 vote lead over Sinn Féin. But Chris Hazzard, who became the youngest MLA when he was co-opted into the assembly in 2012, claims Sinn Féin will not be second for long.
"It's only a matter of time before we dominate all the elections in South Down and I hope this year will see it in the assembly elections also," Mr Hazzard said.
"Of course, we set out to take three seats; we set out to do as well as we can. If we overtake the SDLP, of course, that will be a benefit, but it's about delivering for our constituents. If becoming the biggest party helps us to do that well then more power to us."
Candidates for South Down constituency:
Sinead Bradley, SDLP
Patrick Brown, Alliance
Michael Gray-Sloan, Sinn Féin
John Hardy, Green Party
Chris Hazzard, Sinn Fein
John McCallister, Independent
Colin McGrath, SDLP
Harold McKee, Ulster Unionist Party
Henry Reilly, TUV
Sean Rogers, SDLP
Caitriona Ruane, Sinn Féin
Jim Wells, DUP