NI Assembly election: Final day to register to vote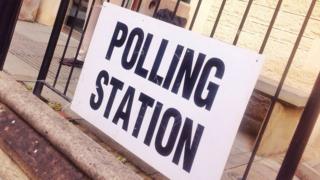 Monday is the final day for people to register to vote in next month's Northern Ireland Assembly election.
Anybody who wants to vote can download a voter registration form and return it to their local area electoral office.
The offices close at 17:00 BST, and the forms cannot be sent electronically.
However, they can be put through letterboxes at the offices as long as it is before midnight.
Research by the Electoral Commission last year indicated that one in four people in Northern Ireland wrongly believe that voters can register up until the day of the election.
Voters will go the polls on 5 May to elect 108 assembly members from 18 constituencies.
A correct form of photo ID must be brought to polling stations.
The following forms of ID will be accepted:
A UK or Irish passport
A UK, Irish or EEA driving licence
A Translink senior smartpass
A Translink 60+ smartpass
A Translink war disabled smartpass
A Translink blind person's smartpass
An electoral identity card
The identification does not need to be current, but the presiding officer at the polling station must be satisfied that the photograph matches that of the person intending to vote.
The deadline for registering to vote for 23 June's EU Referendum is 7 June.