Good Friday Agreement Generation debate trends on Twitter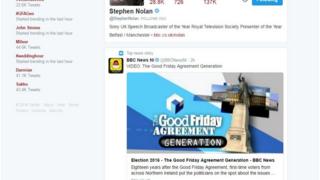 It seems Wednesday night's BBC News NI debate for first-time voters caught the imagination of social media users.
Politicians were asked about a series of issues on The Good Friday Agreement Generation in the televised debate.
The DUP, Sinn Féin, Ulster Unionists, SDLP, and Alliance were on the panel.
The hashtag #GFAGen trended on Twitter acro9ss the UK on Wednesday night as viewers gave their opinions on the debate.
There were several thousand tweets per hour using the hashtag.
Among those expressing their opinions was veteran political commentator Eamonn Mallie and it's fair to say he was more impressed with those asking the questions than he was with those answering them.
Indeed the performance of the young audience members drew lots of praise from Twitter users.
Others were unimpressed with some of the politicians taking part.
A number of those who took part in the debate also took to Twitter to describe their experiences:
The DUP, Sinn Féin, Ulster Unionists, SDLP, and Alliance were represented by Alastair Ross, Chris Hazzard, Doug Beattie, Daniel McCrossan and Naomi Long on the debate.
Jordan Armstrong of the TUV, Ellen Murray of the Green Party and David Jones of UKIP also featured on the programme.
Whether the first-time voters now know who they will be voting for on 5 May, remains to be seen.
The next major televised election debate will be the BBC leaders debate on 3 May.