NI Assembly election: Moral issues high on agenda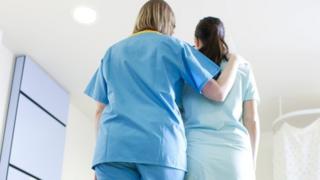 In Northern Ireland, elections and ethics go together - moral issues are high on the political and media agenda.
Two topics in particular are featuring prominently in the campaign for the assembly election.
They are both matters in which the law in Northern Ireland is different to England, Scotland and Wales.
In Lisburn city centre, a group of people in their late teens and early 20s are handing out leaflets entitled "Your Vote Matters".
But they are not from a political party - they are members of an organisation called Youth For Life.
The leaflets feature a picture of a baby, and a photo of Stormont.
The group are trying to persuade people to cast their votes for candidates who are against changing the abortion law.
One campaigner says: "For a lot of people I know, this is the main issue they're basing their vote on - without the right to life, every other right is meaningless."
Another member of the group explains why he feels so strongly: "I think history will look back on a time like this, and I don't want to say that I stood back when mothers were in distress and babies were being killed."
Stricter laws
In Northern Ireland, the law on terminations is much more strict than in the rest of the UK.
Abortions are only permitted to save a woman's life, or where there is a risk of permanent and serious damage to her health.
The issue is often in the political foreground, but it is particularly so in this election.
In recent years, a debate has opened up on whether abortion should be allowed in cases of fatal foetal abnormality.
This means doctors believe an unborn child has a terminal condition and will die in the womb or shortly after birth.
The public discussion was triggered by the story of Sarah Ewart, a young woman who had to travel to England to have an abortion when her baby had no chance of survival.
And in the last few weeks, wider issues about abortion have been put under the spotlight by a court case.
A 21-year-old woman was given a suspended jail sentence after she induced her own miscarriage by taking pills which she had bought online.
Youth for Life strongly feel that abortion law should not be relaxed.
A campaigner argues: "If you allow abortion in any circumstances, you are saying that one child is less worthy of a life than another."
Other campaigning organisations agree this is an election issue - but have a very different attitude.
Amnesty International is encouraging people to email candidates asking them to help make changes to the law.
They want abortion to be permitted in cases of fatal foetal abnormality - and where the pregnancy is the result of a sexual crime.
Amnesty's Michelle Beyers says: "I would encourage people to think about abortion law as an issue that goes to the heart of women's equality. We're talking about sexual and reproductive rights here, but that sits at the centre of women's rights. So I think it's an incredibly important issue."
People attending a meeting which Amnesty has organised in south Belfast say this is something which would sway their vote.
One student says: "If there was a candidate who is for the reform of abortion law, then I would definitely put my vote towards them."
Another tells me she believes Northern Ireland is "so far behind compared with England, Scotland and Wales."
Proposal defeated
The Northern Ireland Assembly voted on whether to legalise abortion in cases of fatal foetal abnormality in February 2016.
The proposal was defeated by 59 votes to 40.
So there is some political support for limited changes to the law.
But none of the five main Stormont parties want to go further and bring abortion legislation into line with the rest of the UK.
There is another moral issue which is at play in the election.
After a referendum in the Republic of Ireland last year, Northern Ireland is now the only part of the UK or Ireland where gay couples cannot marry.
The couples posing for publicity photos at the launch of the "Love Equality" campaign want to have an album of wedding pictures.
Shane Sweeney got engaged to Eoin Griffin in Berlin last year.
They have not arranged a wedding yet in the hope that they will be able to get married in Northern Ireland.
Eoin reflects on what happened at his brother's wedding: "One thing that struck [me] is that the registrar said that marriage in Northern Ireland is for one man and one woman.
"I looked over at Shane and thought we're not part of that system. It made me feel oppressed and discriminated against."
Shane says: "When you live on the back foot in Northern Ireland in terms of your equality to your peers, it makes you feel different. To us it's really important we get this so we don't feel like second class citizens in our country."
Politically, Sinn Féin, the SDLP and the cross-community Alliance Party are in favour of allowing same-sex couples to marry.
The DUP are against.
The Ulster Unionist Party allows a free vote, but, in the past, most of its MLAs have opposed same-sex marriage in the assembly.
Churchgoing
The other prominent public voices who argue against same-sex marriage tend to be from the churches.
In Northern Ireland, churchgoing is more common than in the rest of the UK - and belief is certainly a factor at the ballot box.
At a hustings event at a church in East Belfast, some attendees affirm that candidates' stances on the moral issues would influence their vote.
One man says: "I would be of that generation that would want to maintain Christian values that society has upheld for centuries."
A lady tells me: "I am voting for a party which has strong moral values."
Christian Action Research and Education - CARE - is organising some hustings.
Tim Houston from the organisation explains its argument on same-sex marriage.
"Firstly I would say to same-sex couples that you are entirely deserving as having the exact same rights as I have to be in a relationship.
"But from a Christian point of view we believe that marriage has been ordained by God with the sole purpose of glorifying him.
"So if we read in scripture that marriage is to be between one man and one woman, we must remain obedient to our Lord and his word over anything else."
When it comes to both abortion and same-sex marriage, it is not true to say that all people of faith are opposed to changes in the law - or that the resistance to change comes solely from religious groups.
But the perception that these issues represent clashes between the spiritual and the secular make them all the more politically sensitive.
There is no doubt they are making an impact in Northern Ireland's assembly election.