Holyrood 2016: Final full week of campaigning under way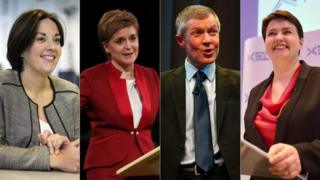 Scotland's political parties have again been out on the streets as the final full week of campaigning for the Holyrood election got under way.
The day was largely dominated by concerns over jobs at the Govan and Scotstoun shipyards on the Clyde, but health, local democracy and plans to boost employment also featured.
Each of the main party leaders is to be interviewed on Reporting Scotland this week.
Green co-convenor Patrick Harvie will be first up on Monday's hour-long programme, followed by the leaders of the other four main parties.
---
Kezia Dugdale, Scottish Labour
Ms Dugdale visited a pharmacy is Edinburgh as she set out her party's plans to introduce universal access to the Minor Ailments Service in community pharmacies as part of Labour's plan to tackle the GP "crisis".
She also said that Scottish Labour's manifesto would give a "cast-iron guarantee" to protect local health services - including some specific hospitals - when it is unveiled on Wednesday.
Ms Dugdale said the pledge would also include services that some health boards had already earmarked for cutbacks "and that the SNP are avoiding talking about".
She added: "Yesterday, Nicola Sturgeon refused to give a commitment to protect vital local NHS services. This includes children's wards, maternity services and elderly care services.
"We will protect these services and look for opportunities to develop them. We can make this commitment because of our plan to end austerity and stop the cuts to our public services. A promise that the SNP have failed to match."
---
Nicola Sturgeon, SNP
Ms Sturgeon visited the Govan shipyard on the Clyde to speak to union officials in the wake of warnings that delays to the contract to build eight new Royal Navy frigates could cost jobs.
Elsewhere, the SNP unveiled a billboard poster urging voters to use both of their votes to protect the party's majority in the Scottish Parliament.
The billboard says voters must not "just hope for a better future" and urges them to vote SNP on both ballot papers as the party warns potentially complacent supporters not to take victory for granted ahead of 5 May.
It has also warned supporters not to put the SNP's majority at risk by giving their regional list vote to another pro-independence party, with the Greens enjoying a post-referendum surge in membership and fledgling party Rise promising a more hardline push for independence.
SNP campaign director John Swinney said: "The SNP campaign will be working right up to the last minute to earn voters' trust and show that we are the only party with the strength, the unity and the vision to take Scotland forward and that in Nicola Sturgeon we have the only credible candidate for first minister."
---
Willie Rennie, Scottish Liberal Democrats
Mr Rennie claimed that the SNP had "centralised the life out of Scotland" as he took his town centre tour to communities across the Highlands.
He added: "The vice-like grip that the SNP government has over local authorities has made it almost impossible for them to take certain decisions based on what is best for their local communities. The SNP have centralised the life out of Scotland.
"SNP centralisation has had a chilling impact on local democracy. Here in the Highlands, the centralisation of the police led to the deployment of armed officers on routine duties in the face of strong opposition from Highland Council.
"In education, councils no longer have the freedom to manage teacher numbers in the way that works best for them and face the prospect of swingeing fines if they refuse to do the bidding of the Scottish government.
"The SNP pay lip service to localism but the truth is that this is top-down, Edinburgh-knows-best government of the worst sort. People in places like the Highlands cannot wait any longer for the SNP to get serious about localism."
---
Ruth Davidson, Scottish Conservatives
Ms Davidson donned a welder's mask as she visited the Ductform factory in Glenrothes to discuss ways of boosting employment in Scotland and highlighting her plans to freeze business rates, support college places and boost skills.
She said: "Job creators are telling me they need to see a skills revolution in Scotland - so we need to do more to support colleges.
"We also propose the creation of new Skills Academies to give young people technical training.
"Firms are saying they need support to help them cope with the the global headwinds - which is why we need to freeze business rates.
"Most of all, we need to keep competitive tax rates so that we do not get a reputation as the highest taxed part of the UK."
---
Scottish Greens
The Scottish Greens launched a Manifesto for Disabled People, which contains commitments to improve the lives of people with physical and mental impairments.
In addition to the party's key policy of improving the pay and support services available to Scotland's carers, the Greens said they would push for "bold action" to reform the assessment and payment of disability benefits to give real security for disabled people.
The party's Maggie Chapman said: "Westminster Governments, both Tory and Labour, have singled out disabled people for life-destroying cuts.
"Greens believe that our social security system should be based on the universal principle of human dignity."
The Scottish Greens also believe that mental health should be given equal importance with physical health, and pledged to fight to ensure that recognition across all health and social care services is given to those with mental health issues and learning impairments.