Lib Dem result 'is remarkable' says Scottish leader Willie Rennie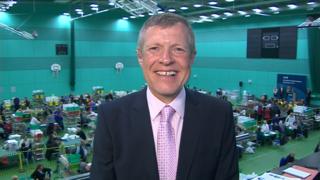 Scottish Lib Dem leader Willie Rennie hailed his party's haul of five seats as "a remarkable result".
The Liberal Democrats finished fifth behind the Scottish Greens, who won six Holyrood seats.
The SNP took 63 seats - two short of a majority. The Conservatives have 31 and Labour 24.
Mr Rennie, who took the Fife North East seat from the SNP, said the results defied pre-election claims of a Lib Dem "wipe-out".
He said: "If you look at the results in Orkney and Shetland, both over 60% of the vote when people were predicting we were going to be wiped out.
"And then in North East Fife, and Edinburgh West, we won from the SNP - winning from the SNP when they seemed to be rampant in the rest of the country.
"So this is quite a remarkable result."