Welsh election: Ask the Leader - Labour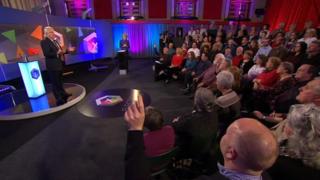 Welsh Labour leader Carwyn Jones faced questions from an audience in Llangollen in the last in a daily series of live TV election specials.
Who is he?
Carwyn Jones is a former barrister and Bridgend councillor who was elected to the assembly in 1999 and has been a Cabinet minister since 2000.
He is front and centre of an almost presidential election campaign by Welsh Labour, focusing on his six-and-a-half-year record in charge as first minister.
Opinion polls suggest the public rate Mr Jones more highly than his rivals, although the Conservatives are trying to drag him down by association with Labour's left-wing UK leader Jeremy Corbyn.
Former First Minister Rhodri Morgan paid tribute to Carwyn Jones as "the ideal person to have during a crisis", citing his handling of the 2001 foot-and-mouth outbreak while he was agriculture minister.
Labour sees the present steel crisis as giving Mr Jones an opportunity to portray himself as a national leader, standing up to the forces of global capitalism and a Tory government at Westminster.
But the opposition script says that if voters are not happy with the state of public services in Wales, they should blame the party which has been running the country for nearly 20 years.
Question 1: Why did you screw up the NHS?
Answer: Carwyn Jones says the Welsh Government's budget was cut by 10% by Westminster, but Welsh Labour is spending more on health than before. He said most people got a good service from the NHS, and when there are problems ministers are ready to take action, such as putting the Betsi Cadwaladr health board in north Wales into special measures.
Question 2: Why is north Wales is even more remote from the assembly than Westminster, despite devolution?
Answer: Mr Jones accepted there was such a perception, but he pointed out that his cabinet included four ministers who represent areas in north Wales. He listed several projects that the Welsh Labour government was supporting in north Wales, such as a replacement for the Wylfa nuclear power station on Anglesey, a new crossing over the Menai Strait, and improvements to the A55, Glan Clwyd Hospital, Rhyl seafront and more.
Question 3: Will you be working more closely with Jeremy Corbyn or will you keep the UK Labour party at a distance?
Answer: Mr Jones said Welsh Labour was fighting a Welsh election, and he was the party's candidate for first minister. However, he said he welcomed support from colleagues from all over the UK, adding that Mr Corbyn would be visiting Wales next week. Mr Jones denied he was trying to disassociate himself with Mr Corbyn, but insisted he was "his own man".
Question 4: Is it okay to lose a generation because you weren't on the ball on education?
Answer: Mr Jones denied that the Welsh Government took its eye off the ball on education. He pointed out that education maintenance allowances had been scrapped in England, and university tuition fees were £22,000 a head higher there. Mr Jones added that new schools were being built all over Wales, unlike in England. "We will never, ever let our young people down," he said.
Shown previously
Monday 11 April - Welsh Conservative leader Andrew RT Davies in Swansea
Tuesday 12 April - UKIP Wales leader Nathan Gill in Swansea
Wednesday 13 April - Welsh Lib Dem leader Kirsty Williams in Aberystwyth
Thursday 14 April - Plaid Cymru leader Leanne Wood in Aberystwyth
All editions of Ask the Leader can be seen on the BBC iPlayer.
You can also follow the programme via social media - @walespolitics