Labour: Severn Crossing tolls should be scrapped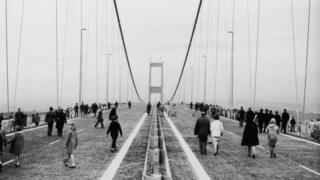 Ministers should "do the right thing" and scrap Severn bridge tolls, Labour has said.
Shadow Welsh Secretary Nia Griffith said plans to halve the tolls are not quite the "bargain" they seem.
But her counterpart in the UK Government, Alun Cairns, said the call was "very convenient" before the assembly election.
It was announced at the budget that the current £6.60 toll for cars will fall to around £3.30 by 2018.
However tolls are already due to be cut to £5.40 when VAT on the bridge levy ends once they pass into public ownership.
Discount
Ms Griffith, speaking during Welsh questions in the House of Commons, said: "In last month's budget the chancellor did make much of halving the tolls on the Severn crossing, but as we have since discovered this is not quite the bargain it appears to be."
"This 50% discount includes the 20% of VAT which disappears anyway when the bridge reverts to public ownership and of course businesses reclaim VAT," she said.
"So instead of leaving businesses still paying thousands of pounds a year why won't the government do the right thing and scrap these tolls altogether?"
Conservative Welsh Secretary Mr Cairns said in response: "This is a very different call, a very convenient call, I would say as well, before an election, from the party opposite in that they have long called for the devolution of the tolls.
"We were fearful that as soon as the tolls are devolved, if that was ever agreed, that we would get to a position where they would be used as a cash cow in order to support the income of the Welsh government."
Abolition calls
The move by the shadow Welsh Secretary confirms that Labour policy has changed in favour of the abolition of the toll, something the party at a UK level has not previously called for.
The party has joined growing calls from politicians for the tolls to be scrapped in some form.
UKIP also wants the tolls to be scrapped, as do the Liberal Democrats.
Plaid Cymru has also promised to abolish Severn crossing tolls - specifically for people living in Wales - if the powers are devolved.
Currently both the Severn Bridge and the Second Severn Crossing are governed by a concession agreement that means they are run by a private company.
This is due to end around 2018, when the bridges pass into public ownership.