Labour claims UKIP 'would end flood defences'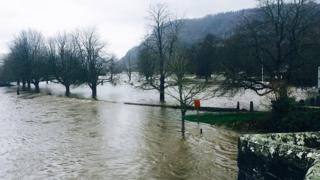 Future plans for flood defence work would be dropped if UKIP scraps the Welsh Government's climate change and sustainability budget, Welsh Labour has claimed.
In its manifesto, UKIP questioned whether a planned spending increase on climate change could achieve anything.
It has led to Labour warning any cuts would leave communities across Wales more at risk of flooding.
But UKIP said it would maintain flood defence work with money from elsewhere.
Labour claimed communities which have been the victims of serious flooding such as St Asaph, Boverton in the Vale of Glamorgan and along the A55 would be affected.
The party also said the planned cut would also end schemes like "Nest", which provides warm home environments and lower energy bills for lower income families.
'Re-invest'
But UKIP argued the planned increase of 50% in government spending on climate change was the largest of any department.
The party says climate change and sustainability budget was £48m in 2015/16, but has risen to £73m in this financial year.
UKIP said it would re-invest some of that money in transport, including subsidising train ticket prices and maintenance of the Severn crossings.
But it added it would maintain flood defence work and spend at least as much money as Labour on A55 improvements.
It said any capital spending will come from £600m saved by switching from the black route to the blue route for the M4 Relief Road, and added any energy efficiency and insulation subsidises should be funded by energy companies.