Assembly election seats to watch: UKIP's fight in South Wales East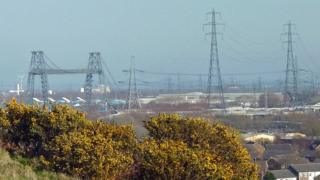 So far, in our pieces looking at assembly battlegrounds, we have looked at places where the Tories may be able to beat Labour, and one seat where Plaid could be neck and neck with Carwyn Jones' party.
But one of the big stories of the campaign so far is UKIP.
A combination of their performance in opinion polls and how well the party did in terms of vote share in the general election last year has led many to predict that the party will win its first assembly members.
Hardly anyone - not even UKIP privately - thinks the party will win constituency seats.
Instead it is expected that - short of a disaster - the anti-EU party will win "top-up" regional seats under the additional members system.
And South Wales East is one part of Wales which could prove to become UKIP's backyard.
Expectations
Prof Roger Scully of the Wales Governance Centre said UKIP's strongest area at the general election, "without question", was South East Wales.
He said the party's five highest vote shares in the general election in Wales "were all in South East Wales" including the highest, in Islwyn.
He said: "If UKIP are having a good night they should win two in South East Wales.
"At this stage I would be frankly astonished if they did not win one there.
"They would need an almighty collapse in support, or a failure to get their vote out on the day."
He added: "The question for UKIP, unless the polls are horrendously wrong on this, is not whether UKIP can win one but whether they can win the second."
Post-industrial
South Wales East covers much of the region covered by Gwent Police, with the addition of the Merthyr Tydfil and Rhymney constituency.
It includes the city of Newport in the south, as well as the towns of Caerphilly, Cwmbran, Blackwood and Pontypool.
It also encompasses many former industrial areas such as the ex-steelworks town of Ebbw Vale.
Rates of jobseekers allowance claims or out of work universal credits in the areas of Blaenau Gwent, Merthyr, Newport West and East, Caerphilly and Islwyn are among the ten highest in Wales by percentage of the population, stretching from 4% in Blaenau Gwent to 3% in Newport East.
Prof Scully suggested that the kind of working class and post-industrial demographics seen in the area seem to be serving UKIP quite well.
"If you look at UKIP's support in England, a typical UKIP supporter is older, more likely to be white, more likely to be male, more likely to be poorly educated, but also more likely to be not very well off economically, and particularly likely to be concentrated in certain post-industrial communities," he said.
'Defending seats'
But UKIP are not the only party that is competitive for regional seats in the area - Plaid Cymru and the Welsh Conservatives are defending two seats each.
At constituency level the region is held almost entirely by Labour - with only the Monmouth constituency held by the Conservatives.
UKIP's top-of-the-list candidates are former MP Mark Reckless and David Rowlands.
Plaid leader Leanne Wood's advisor Steffan Lewis is leading Plaid's campaign in the area, followed by number two Delyth Jewell.
Meanwhile Conservative AM Mohammad Asghar is defending his seat having been selected to be at the top of the list.
Former AM William Graham was deselected as part of the same decision.
Laura Jones, who served as an AM between 2003 and 2007, is fighting the election as the Tories' number two candidate.
Should Labour be worried?
Prof Scully argued that in the long term Labour should be "extremely concerned" if UKIP won two in the region.
He said: "If you look internationally at other sorts of populist, or radical right political parties, then often they have ended up taking a lot of their support from traditional centre left parties.
"A very obvious example of this is France. The Front National get a lot of their votes from the white working class. These are people who used to be voting Socialist or Communist.
"In the short term UKIP winning some seats possibly does Labour in the assembly some good - it divides the opposition even further and makes any sort of non-Labour government even more difficult to construct."
But he added five or six seats in the Welsh assembly would give UKIP "a significant amount of resource which would supplement what they get from the European parliament and help underpin the long term financial and organisational security of the party".