Wales Election 2016: Could turnout be the worst on record?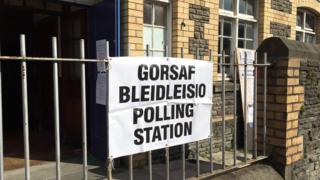 A big story of the 2016 Welsh Assembly election could be how many people chose to vote, amid warnings it could be the lowest on record.
At the last assembly election in 2011, about 42% of the electorate voted - much lower than last year's Westminster election when the turnout was 65%.
In 2011, the lowest constituency turnout was 31% in Swansea East - a seat won by Labour. The second was Wrexham at 34.9% - another Labour win.
Prof Laura McAllister from Liverpool University said: "The pattern of lower turnout for assembly elections in Wales mirrors that for so-called 'second order' elections across Europe and beyond".
She added: "What is disappointing is that the figure does not seem to be changing much over time as the assembly becomes more rooted in public consciousness and awareness of its role and powers increases."
Risk
During the campaign, Welsh Conservative leader Andrew RT Davies warned this year's turnout figure could reach new lows.
He said: "Because all elections carry that risk, and I very much hope that instead of having a low turnout we have a record turnout because the issues which are most important to most people in this country; health, education, the economy, local authorities and the environment are all determined from the assembly.
"So I hope we don't see it, but I think there is a risk that could happen."
The Brecon and Radnorshire seat saw the highest turnout last time round at just under 53%. The highly marginal seat of Cardiff North had the second highest at 51.4%.
The average turnout at assembly elections since 1999 has been ­­42.6% - an average 21.1% lower than the turnout at general elections in Wales, which on average tends to be higher than elsewhere in the UK, over the same period.