Steve Bannon: Who is Trump's key adviser?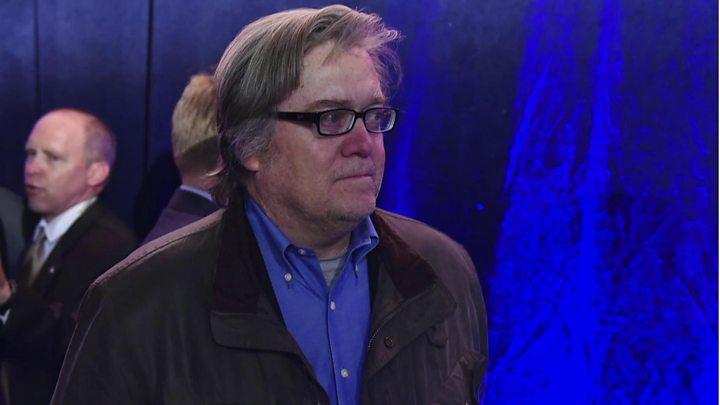 Steve Bannon, formerly the driving force behind the right-wing Breitbart News website, has quickly emerged as one of the key players in Donald Trump's White House.
Mr Bannon serves as chief strategist, a role that gives him a direct line to President Trump. His influence has already been seen in some key decisions made by the new president.
But recent comments by the president suggest Mr Bannon's job may be under threat.
Mr Trump appeared to downplay Mr Bannon's role in a New York post interview, when he declared "I'm my own strategist".
Mr Bannon's appointment was at odds with the Republican mainstream, which had been the subject of repeated attacks by Breitbart, and which is represented in the White House by Mr Trump's chief of staff Reince Priebus.
The combative site serves up an anti-establishment agenda that critics accuse of xenophobia and misogyny. Under Mr Bannon, it became one of the most-read conservative news and opinion sites in the US.
'Not warm and fuzzy'
Born in Virginia in 1953, Mr Bannon spent four years in the navy before completing an MBA at Harvard. He then went into investment banking and, after a spell with Goldman Sachs, moved successfully into media financing, helping to get the comedy show Seinfeld, among others, off the ground.
He shifted into film production, working in Hollywood before branching out into independent political documentary making, paying homage to former US President Ronald Reagan, former Alaska Governor Sarah Palin and the Tea Party movement.
Through this work he met Andrew Breitbart, a staunchly conservative media entrepreneur who wanted to create a site that challenged what he saw as liberal-dominated mainstream media.
When Andrew Breitbart died of a heart attack in 2012, Mr Bannon took over as head of Breitbart News and drove it forward.
The site positioned itself as a populist, bellicose, conspiracy-tinged outlet for right-wing Americans disillusioned with mainstream politicians.
"We call ourselves 'the Fight Club.' You don't come to us for warm and fuzzy," the Washington Post quoted Mr Bannon as saying in January 2016.
"We think of ourselves as virulently anti-establishment, particularly 'anti-' the permanent political class. We say [Republican House Speaker] Paul Ryan was grown in a petri dish at the Heritage Foundation [a conservative think-tank]."
Some of Breitbart's headlines have attracted controversy. A conservative commentator was called a "renegade Jew", and the work of reproductive rights organisation Planned Parenthood was likened to the Holocaust.
One headline read "Birth control makes women unattractive and crazy", while another asked students "Would you rather your child had feminism or cancer?".
During the election campaign, the site was fulsome in its support of Donald Trump. One piece in November 2015 called him the "John Wayne" of politics, saying "we should thank God that Trump is in this race... He will set back the destruction of America".
It has also been accused of becoming the mouthpiece of the alternative right (or alt-right), a loose online grouping of mainly young people who embrace "white identity" while rejecting progressive views on immigration, race, LGBT issues and gender equality.
Breitbart, in a column in March 2016, said the movement had "a youthful energy and jarring, taboo-defying rhetoric". The Southern Poverty Law Centre called it "a loose set of far-right ideologies" with the preservation of "white identity" at its core.
But, within the company, Mr Bannon's actions caused ructions.
Ben Shapiro, who resigned as the site's editor-at-large in March last year over the treatment of a reporter allegedly manhandled by a member of Mr Trump's team, said Andrew Breitbart's "life mission" to fight bullies had been betrayed.
"In my opinion, Steve Bannon is a bully, and has sold out Andrew's mission in order to back another bully, Donald Trump," he wrote.
'White supremacist themes'
Mr Trump appointed Mr Bannon as campaign CEO in August 2016 and, following his victory, handed him a key White House role.
Democrats slammed the appointment.
"It is easy to see why the KKK (Ku Klux Klan) views Trump as their champion when Trump appoints one of the foremost peddlers of white supremacist themes and rhetoric as his top aide,'' Adam Jentleson, spokesman for top Senate Democrat Harry Reid, said in a statement.
Mr Bannon's appointment was also criticised by civil rights groups, including the Anti-Defamation League (ADL), which campaigns against anti-Semitism, and the Southern Poverty Law Center, a leading advocacy group against hate crimes.
The ADL's chief executive, Jonathan Greenblatt, described Mr Bannon as "a man who presided over the premier website of the 'alt-right' - a loose-knit group of white nationalists and unabashed anti-Semites and racists".
Mr Trump had said Mr Bannon would work "as equal partners" with Mr Priebus, his newly-appointed chief of staff, but the former has been largely sidelined in recent weeks.
The president told the New York Post: "I like Steve, but you have to remember he was not involved in my campaign until very late."
US media have reported Mr Bannon appears to be in the midst of a power struggle with Mr Trump's son-in-law and senior adviser, Jared Kushner.
Mr Trump recently removed Mr Bannon from his elevated role on the crucial National Security Committee.
His recent remarks on China, Nato and Wall Street also underscore a marked shift from the populist, nationalistic policies that Mr Bannon has pushed at the White House.
The about-face signals Mr Bannon could be on his way out as Mr Trump moves toward a more traditional Republican presidency.