Leeds & West Yorkshire
Top Stories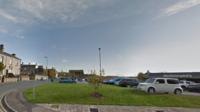 A man is raped in an alleyway in West Yorkshire.
More top stories
The body of a woman is recovered by police from a river in Ilkley.
Three oversubscribed schools in north Leeds are given 90 new places for pupils, said Leeds City Council.
A Leeds museum celebrates the 100th anniversary of a steam engine that founded a railway in Sierra Leone.
Six arrests are made at an English Defence League (EDL) march in West Yorkshire, say police.
The bungalow in Corfu where two British children died of carbon monoxide poisoning is to be demolished, its owner reveals.
Scores of bikers take part in a "demo ride" through Leeds city centre.
A shop owner says thieves who stole about 60 prom dresses, worth an estimated £26,000, took "everything we've worked hard for".
Our correspondents
Len Tingle
Political editor, Yorkshire
Latest stories
Cricket chiefs are in exclusive discussions with a preferred candidate - thought to be Trevor Bayliss - for the England coach job.
James Hildreth smashes 82 from 61 deliveries to wrestle back momentum for Somerset after Tim Bresnan's century.