Liverpool
Top Stories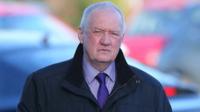 No disciplinary action was ever taken against the Hillsborough match commander for his "wicked lie" about the disaster, the inquests are told.
More top stories
A school which took at least 40 pupils out of lessons for refusing to remove a Marie Curie symbol from their blazers lifts its ban on charity badges.
A substantial number of teenagers are experimenting with e-cigarettes, even those who have never smoked, a Liverpool study suggests.
31 March 2015

From the section

Health

comments
A year on, some of the Hillsborough families say the strain of attending the inquests into the deaths of their loved ones is too much to bear.
A policeman who crashed a patrol car through the gates of Cheshire Police headquarters to confront his boss is spared jail.
30 March 2015

From the section

England
The Football Association will not be permitted to lay a wreath to mark the 30th anniversary of the Heysel disaster.
Alt Meadows, Liverpool's 48th park, is officially opened to the public.
A rugby match is held in honour of a police officer, who died after he and two colleagues were attacked on a Christmas night out.
Latest stories
Lancashire and Middlesex will replace Peter Siddle and Adam Voges respectively after they were called into Australia's Ashes squad.
Everton's England international midfielder Ross Barkley says he is at his best when played behind a striker.