Northampton
Top Stories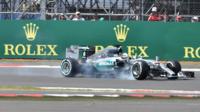 Lewis Hamilton beats team-mate Nico Rosberg in an all-Mercedes battle for pole position at the British Grand Prix.
More top stories
Eight people are taken to court and more than 50 given penalty notices for bin bag rule breaches, it emerges,
A police force criticised for using "ploddledegook" in a jargon-heavy job advert has appointed a new chief constable.
A compulsory purchase order is made to ensure a new road will be built for a new residential and business district in Wellingborough.
Features & Analysis
Latest stories
Saracens will begin the defence of their Premiership title at home to Sale Sharks on Saturday, 17 October.
Nico Rosberg pips team-mate Lewis Hamilton to set the pace in first practice at the British Grand Prix.