Northampton
Top Stories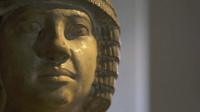 A campaign group in Egypt joins the fight over the £15.76m sale of a 4,000-year-old statue by Northampton Borough Council.
More top stories
The new Northamptonshire chief constable admits he will have to fight violent crime with falling budgets.
Campaigners fighting the export of a £15.76m Egyptian statue sold by Northampton Borough Council call on David Cameron to prevent it leaving Britain.
A father of three who was stabbed to death in his home would have taken "minutes to die" a court hears
A police officer appears at Northampton Crown Court by video link to deny murdering his wife.
Latest stories
Defender Rod McDonald has signed a one-year deal at Northampton Town subject to completing a medical.
Charley Hull and Lydia Ko have given themselves an edge as they prepare for this week's British Open, writes Iain Carter.